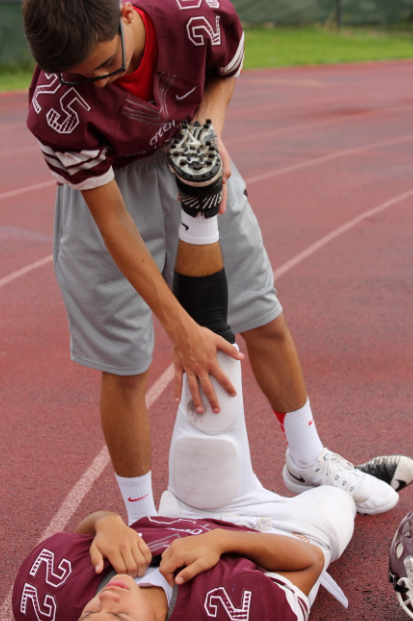 9.28.15
A VERY IMPORTANT MESSAGE CONCERNING HOMECOMING CARNIVAL…
Students we will be unable to make change for bills larger than $50.00 for ticket sales at homecoming carnival.
Melissa Barrios, Bookkeeper
Students begin using their Office365 email for all of their email communication and stop using their Google email. This will help to ensure proper email delivery and help them make the transition away from Google email.
Cathy Donahoe
Congratulations to the Boy's Freshman Cross Country team for winning their second consecutive meet this past weekend at Walter Hall park. Running for the team was Jason Bearden, Jacob Cox, Todd Hoover, Miko Maxwell, Lars McLeod, William Norsworthy, and Presron Porter.
Coach Jordan
Coach Pittman has taken a HUGE early lead, but there is plenty of time to make sure the teacher you want to kiss the goat will be the lucky winner. You can vote by putting in your spare change or bills to the voting boxes located in the teachers rooms, the B100s or the library!
The teachers you can vote for are:
Coach Bryan
Ms. Word
Ms. Waligrora
Ms. Wood
Coach Pittman
Stuco
The Varsity Tennis Team defeated Clear Lake 15 matches to 4 Friday night. The wildcats are leading the district and are scheduled to play Dickinson this week.
Thanks,
Coach Marrie
Girls Varsity and JV Cross Country Teams competed well at Clear Creek's annual Cross Country Meet this past Friday. For the Varsity, Hailey Chorn finished 8th out of a field of 150 runners. For the JV, Amber Farrar finished 18th out of a field of over 200 runners.
Congratulations Lady Wildcats!!!
Coach Zepeda
On Saturday at Angleton HS, the choir participated in the TMEA District Auditions, the first of two rounds to the All-Region Choir and the first of four rounds to the All-State Choir. We are very excited that 21 students advanced to the second round of auditions and have earned a spot in one of our three All-Region Choirs. All of these students will now begin working on their Region Audition music for the competition in 5 weeks where they will find out what Region Choir they are in and whether or not they advance to the 3rd round of auditions.
In choir, there is no JV competition, so all of our students compete on the Varsity level. This means we have freshmen students competing against seniors. We are so excited to have so many freshmen and sophomores excelling at this contest. If you have or see any of these students today, please join Mr. Stultz and I in congratulating them for this achievement:
Mitchell Bonvillian – freshman!
Jasmine Christensen – junior who hasn't been in choir since 8th grade – made 10th chair!!
Megan Eldridge
Kendall Eley
Paige Eley
Brandon Falknor – freshman!
Travis Falknor – freshman who ranked THIRD CHAIR!!!!
Iris Garcia – senior who is auditioning for the first time – made 7th chair!
Sarah Hart – 5th chair!
Reanna Helton
Stephen Hess
Zachary Hoover – 7th chair!
Barrett Langford – 3rd chair!
Kaylee Miller – 4th chair!
Jhanvi Patel – junior who transferred in from out of state and is auditioning for the first time!
Justin Pollio – sophomore who ranked 7th chair!
Sophia Sledge – 7th chair!
Skyla Sonnenburg – freshman!
Ana Tegeler – sophomore who ranked SECOND CHAIR!
Kat Velasco – freshman!
Logan White
Thank you for your continued support of our wonderful choir students!!
James Park
The Cavalier BOOSTER Club is currently selling raffle tickets for a wave runner for $25. The winner will be announced at the November 6 football game during halftime and they do not need to be present to win. If they are interested in purchasing they should speak to a Cavalier. Thanks in advance and have a great HOCO week! GO Wildcats!
– Jenille Junco