Cap & gown pickup 2020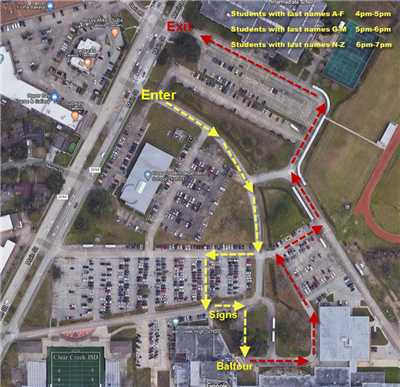 Clear Creek High School will be conducting a drive through pick up for graduation caps and gowns on May 5th from 4pm to 7pm. We will also be giving each Senior a "Class of 2020" yard sign!
All seniors or parents of seniors planning to pick up caps and gowns will need to form a car line in the designated area at the back of campus around the horseshoe drive. Please see the map below for entry and exit routes.
Please follow our suggested pick up schedule to help with efficiency and social distancing during our distribution at Clear Creek High School.
Students with last names A-F      4pm-5pm
Students with last names G-M    5pm-6pm
Students with last names N-Z      6pm-7pm
To help with the process and limit social contact, we ask that each car place a piece of paper with the student's name written where it can be seen through the windshield on the passenger side dashboard of the vehicle. Please bring a current student ID card for confirmation.
It's not too late to order caps and gowns. Orders need to be placed and paid for by April 29th. To place an order visit www.balfourgrad.com, click on Balfour Grad and then select Clear Creek High School.