Pre-season warms Wildcats up for future gridiron battles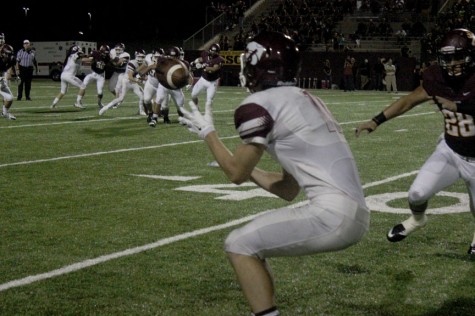 Creek's football pre-season has been a great prelude to the upcoming regular season. On September 12, 2014, after three intense games, the team wrapped up the pre-season with a game against Deer Park. The team will now begin working even harder to guarantee their victories against their homecoming opponent: Clear Brook and keep last year's title of district champs. The pre-season was one of victories and losses in which the coaches, players and all those who contribute to the football games did their best to ensure that this pre-season was a memorable one.
The pre-season for Creek consisted of three games in which the varsity team went against three out-of-district high schools. This year, Creek was assigned against Ridge Point, Alief Taylor, and Deer Park. The team's first game against Ridge Point on September 29 unfortunately ended in Creek's first loss of the pre-season. On September 5, the game against Alief Taylor gave Creek their first victory. When the team went up against Deer Park High School on September 12, it unfortunately ended.
The pre-season is meant to prepare the team for their regular season and help to give new varsity players the experience and practice they'll need for the regular season. Clear Creek's head coach Darrell Warden spoke on the team's goal in preseason and its usefulness to the players.
"The goal in preseason is to of course win but it's also about playing quality opponents to get you ready for district play." Coach Warden said. "It's a great opportunity for your players that haven't played on varsity before to get used to the speed of the game."
Coach Warden went on to discuss what the team and coaches talk about and discuss before and during games.
"We always talk about different things. Probably the biggest thing is staying focused and carrying out your assignment. Everybody's got to do their job, coaches, players, everybody," Warden said.
The coach is not the only one to be enthusiastic about this pre-season. Varsity quarterback Chase Hildreth spoke very confidently about the pre-season when asked his thoughts on the overall season.
"I feel like it's been pretty good. We got assigned to some pretty hard teams," Hildreth said, "[This will] help us get better for the playoffs."
"We just didn't start off like we usually do. We turned the ball off too much. We made a lot of mistakes, like mental mistakes," Hildreth said.
On how and the team keep themselves prepared for the next game, Hildreth said that in between games they just had to "stay humble."
After much discussion, he spoke on how their running back Da'von Smith would not be playing for the entire season due to leg injury.
"He was our biggest leader on offense, and it was a big loss. A lot of people gotta step up and be leaders now. I feel [his loss] had a big impact on our first loss," Hildreth said.
Luckily however, former receiver Andy Wieson has become the new running back and Hildreth spoke quite positively on him "stepping up", even stating this should have positive results once regular season starts.
"Andy's really stepped up big time because [during our second game] he had over a hundred yard rush," Hildreth said.
Finally he spoke on his aspirations for the season.
"[It's mostly] to win district and go as far as we can in playoffs," Hildreth said.
On his inspiration for playing, Hildreth spoke about his teammate Da'von Smith.
"It's probably Da'von because he really works hard on off season and had a really tough injury and was off this season," Hildreth said.
Overall, the pre-season was one in which the football team tried their hardest and be victorious against their opponents. Coach Warden and Hildreth are just some of the few that represent what goals, enthusiasm, and attitude the players of Creek stand for. In the end, what truly matters to the team is that they will be able to look back and say with great assurance that they tried their hardest and gave their all