Wildcat Web News 4.7.16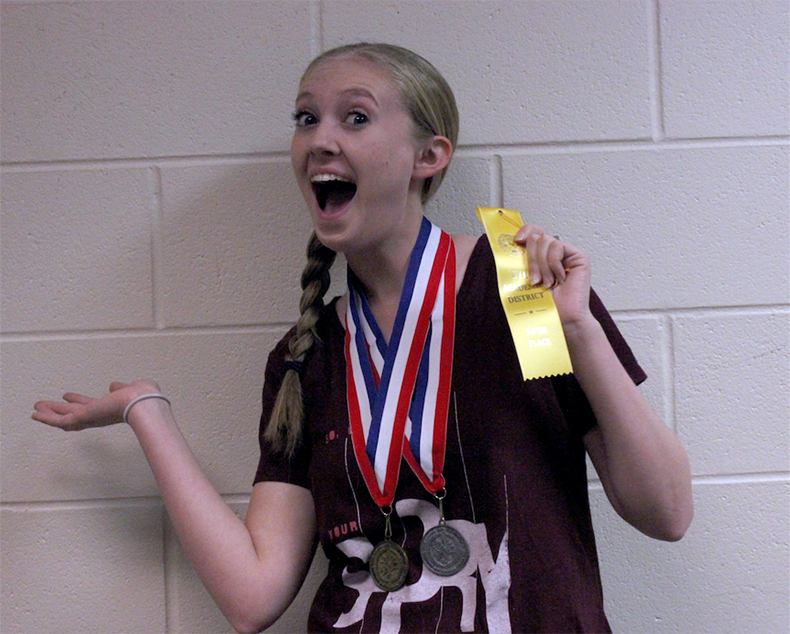 Emily Berthiaume with her UIL Journalism medals wearing her "Write your own story T-shirt!"
Photo by Hannah Pearson
4.7.16
UIL Journalism
Congratulations to Emily Berthiaume who took the lead with Fifth Place in Editorial Writing, Second Place in Current Events and an amazing First Place in Headline Writing. She advances to Regionals in Current Events and Headlines.
Wynette Jameson
Congratulations to the UIL Computer Science Team for taking 3rd place in UIL academics the team consisted of
Bryce Dai, Dylan Barton, Billy Ryder and Han Chen
Anne Woolweaver
Calling all fashionistas, fashion club will be holding a meeting to plan upcoming projects. We will be meeting TODAY at 2:30 outside the B100s. Everyone's welcome, hope to see you there!!
Shannon Herd
We had a good day for our Extemporaneous Speakers:
Sophomore Scott Lindberg and Senior Arbera Bedini were both next out from finals in Informative Extemporaneous Speaking. While Sophomore Alisha Sood was a finalist and placed 5th. She is the second alternate to region.
In Persuasive Extemporaneous, all three of our entries made it to finals. Sophomore Anusha Jiwani placed 6th and is the 3rd alternate, Senior Christina Morrison placed 4th and is the 1st alternate, and Junior Greyson Gilliam placed first, and is your district champion.
Congrats to all the speech and debate kids for a tremendous season.
Brian Darby
Congratulations to Lisa Nhan and Emma Williams for taking 1st and 5th place respectively in Ready Writing at the UIL district meet. Lisa will move on to compete at Regionals.
Ken Fontenot