Scholarship fundraiser tournament to be held at TopGolf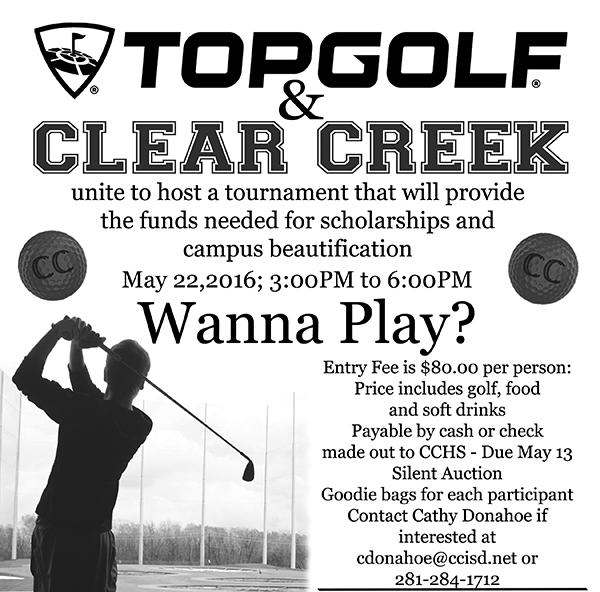 Emily Berthiaume, Editor-in-Chief
May 5, 2016
Clear Creek High School faculty and staff is set to host a golf tournament at TopGolf in League City in order to raise the needed funds for scholarships and campus beatification projects. It will be held on May 22 from 3PM to 6PM.
The tournament, currently not open to students, will cost $80 per player. The price covers the cost of golfing, food, and soft drinks throughout the tournament. A silent auction and goodie bags will also be available to players.
The idea for the tournament came from Mrs. Donahoe and Principal Majewski, as money needed to be raised for the Bockart scholarship, which is normally given to graduating seniors at Senior Awards Night, and the Weber Award, which is traditionally given during the graduation ceremony.
"TopGolf is new and it's so popular, and Mr. Majewski and I had been trying to come up with different ways to raise money," Mrs. Donahoe said. "We talked about a dance, but none of the administration was too happy about that. Golf is something that I have experience with because my children played, and so I said let's do TopGolf, because it's so popular."
The money was specifically needed this year for the scholarships because the funds previously set aside for them need to be replenished.
"There used to be a faculty play, and that's how money was raised for scholarships," Mrs. Donahoe said. "They haven't done that in a while, so the funds have diminished and we needed another fundraiser."
Money raised at the tournament will also go towards campus beautification projects, such as leveling the courtyard, pulling out overgrown bushes, and installing new benches and grass areas. Mrs. Donahoe said that hopefully one day a gazebo could be placed in the courtyard to replace the classic gazebo that was torn down during the first rebuild of the school.
Although the tournament is not open to students this year, it may be next year after seeing how everything goes. Parents of students, community people, staff members, and staff member's families are encouraged to sign up to play.