Air Force spacecraft to land after classified mission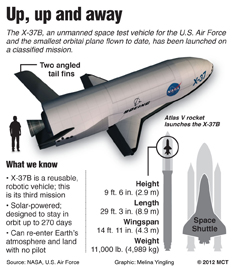 Carolina Sarria, News Editor
November 5, 2014
After spending two years in orbit on a classified mission for the U.S. Air Force, space plane X-37B is soon expected to land back on Earth at Vandenberg Air Force Base in California.
Although the base did not give a specific time for the landing of the plane, a notice to aviators and mariners on the Federal Aviation Administration's website stated airspace around the Southern California base would be closed on October 14. The Air Force has said the exact timing will depend on "technical and weather considerations" and also that the crews at Vandenberg are well trained for when it does land.
On December 11, 2012, the X-37B, which looks similar to a small space shuttle, took off from Cape Canaveral in Florida. The Air Force at that time said the mission would last nine months.
The X-37B space plane is 29 feet, three inches long with a height of nine feet, six inches and a wingspan of 14 feet and 11 inches. Its weight is about 5.5 tons. The spacecraft was lifted into space by United Launch Alliance's Atlas V rockets.
"Team Vandenberg stands ready to implement safe landing operations for the X-37B Orbital Test Vehicle, the third time for this unique mission," Colonel Keith Baits, commander of the 30th Space Wing, said in a statement.
According to an Air Force statement, the spacecraft is designed to demonstrate reusable spacecraft technologies for America's future in space and operating experiments, which can be returned to and examined on Earth. The statement also said that technologies being tested in the program include advanced guidance, navigation and control, thermal protection systems, avionics, high temperature structures and seals, conformal reusable insulation, lightweight electromagnetic flight systems, and autonomous orbital flight, re-entry and landing.
However, as X-37B has been in orbit for over 22 months, there has been speculation on whether or not the space plane was being used for other things, such as testing of a secret space weapon or spying activities.
Other speculations include that the spacecraft's small cargo bay is being used to transmit sensors that can take detailed photographs or communications on Earth, such as being able to track Iran's nuclear program or suspected terrorists.
Jonathan McDowell, a Harvard University astrophysicist, agrees with this theory. He notes that any device could be returned, allowing scientists to build a better model based on the depletion it experienced from the radiation and debris in the outside atmosphere.
John Pike, a veteran space policy analyst, agrees with the theory that the program is designed to "give the Chinese a brain cootie" in an attempt to figure out the purpose of it all. This way, China would have to spend time and resources trying to counteract a range of possibilities.
The X-37B's previous mission, when it landed at Vandenberg on June 16, 2012, lasted 469 days. This mission was flown by the second of the Air Force's two X-37B orbiters. The current mission is the second for the first of the orbiters, which was repaired after spending 224 days in orbit after launching in April 2010.
The Air Force has said that the current mission might not be the last.
"Officials anticipate multiple missions will be required to satisfy the test program objectives, but the exact number of missions has not been determined," the Air Force said.