Senior Panoramic Photo
When:
March 1, 2017 @ 9:45 am – 10:15 am
2017-03-01T09:45:00-06:00
2017-03-01T10:15:00-06:00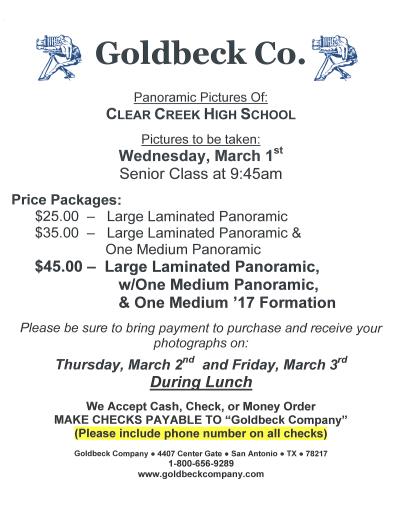 On Wednesday, March 1
st
 we will be taking our senior panoramic picture in the parking lot behind Veterans' Memorial Stadium at 9:45 am. That is a LAD, so at the beginning of 1st period, classes with all seniors will  walk to that area. 
 Fliers will be placed around the school listing the prices for the different packages if seniors would like to order a personal copy.   If you have any questions contact Mrs. Butcher or Mrs. Saucier in E100.
Please use one of the routes below to get to the stadium parking lot:
Route 1: Walk the students around the band hall to the front entrance to the stadium. You will then go around behind the bleachers on the Home side.
Route 2: Walk the students through the tennis courts and spring sports to the track and then to the gate toward the stadium.
There will be staff members to help with the flow.