CCISD Bond:Early voting ends May 2~Election Saturday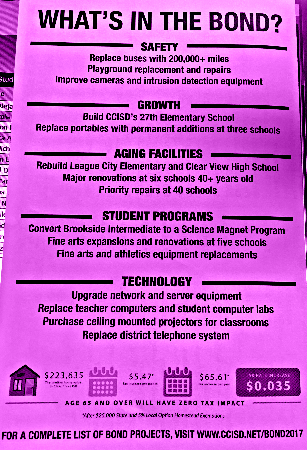 Brief overview of What's in the Bond?
Please Vote! Early voting for the Clear Creek ISD School Bond Election and School Board Election ends tomorrow, Tuesday, May 2, 2017. Polls are open tonight until 7 p.m. and reopen tomorrow from 7 a.m. – 7 p.m. at the locations below. If you are a registered voter and reside in Clear Creek ISD, you can visit any one of these locations with photo identification. If your schedule makes it difficult to vote during these times, please see me so that we can provide coverage for your class or shift. The proposed $487 million bond program will allow the district to:
Build new, rebuild old, and renovate existing schools
Remove portable buildings and replace with permanent additions
Expand the district's science magnet program to a second location
Conduct priority repairs across CCISD
Purchase school buses to replace those that are 15-25 years old
Improve campus surveillance and intrusion system
And more… visit www.ccisd.net/bond2017
Early Voting Locations For May 1 and May 2
Polls Are Open 7 a.m. until 7 p.m.
Brookside Intermediate
Clear Brook High School
Clear Falls High School
Clear Lake Intermediate
CLHS 9th Grade Center
Clear Springs High School
Education Support Center
Ferguson Elementary
Gilmore Elementary
League City Intermediate
Parr Elementary
Victory Lakes Intermediate
Westbrook Intermediate
Election Day is this Saturday! Click Here To Find Your Voting Location.