About Us
New this year we are have made a brand new page just for you-our readers, our 21st century audience. It is easy to remember-https://creekhilife.com
Creek HiLife's online newspaper is our continuing journey to let students know what's going on, not only around CREEK, but also around the world. We were the number one high school newspaper at highwired.com until they went out of business. We were the number one newspaper at iHigh.com until they went out of business. We hope to be highly rated here as well.
Everyone on our staff contributes to our final print issue which comes out every month of the school year.We will update our page as often as we can to keep everyone informed as to what is going on at the BEST high school in Texas. We use stories that out reporters write and photos that our photographers have taken. HiLifers are the best that they can be and have been the number one UIL journalism team two years in a row. We have also been to UIL state three times in this decade alone.
We are proud to have earned two SNO badges this semester:one is the badge of Excellence
To earn this badge, a news staff must customize their homepage beyond the initial SNO design with a clear sense of purpose for every element on the homepage.
and the other is
EXCELLENCE IN WRITING BADGE
This badge is automatically awarded to news staffs with at least three stories from this school year published on Best of SNO, a site dedicated to excellence in student journalism.
You can find our print library here http://issuu.com/creekhilife
We have all the requisite sites at Creek HiLife for Facebook https://www.facebook.com/creek.hilife, Twitter https://twitter.com/CreekHilife , Instagram, Pintrest and more.
We are here to be the number one information source for those who love Clear Creek High School~teachers, parents and students. We would love to be your one stop news shop.
You may reach us at [email protected] or any of our social media listed above.
Creek's journalism department persists in the winning tradition that makes it one of the most forward-looking programs in the country. Journalism teachers Wynette Jameson and Jan O'Neil traveled to Malibu, California to the Dan Eldon Center for Creative Activism to work with Kathy Eldon and Amy Eldon Turteltaub.
Jameson is featured in the 2012 books, Dan Eldon Safari As A Way of Life by Jennifer New. Jameson was highlighted as well as Down the Mississippi: A Modern Day Huck Finn on America's River Road by Neal Moore. Moore just visited the Creek journalism classes to speak about the life and times of a citizen journalist and best selling author before returning to South Africa. Jameson had the book Crossing Paths by Melanie Stinnett dedicated to her by the HiLifer.
The HiLife continues to bring you news you can use. Staff members are already working to publish their first print edition of the year. The staff is excited to be working on a Homecoming edition of the print paper.
Creek's HiLife can be found on multiple sites: We have photo albums here and a print library here http://issuu.com/creekhilife .We have videos here http://www.youtube.com/user/creekhilife08 on our own youtube channel
*We have a facebook page here http://www.facebook.com/creek.hilife for anyone who wants to keep in touch with CREEK.
*We have twitter to tweet breaking news or just fun facts http://twitter.com/#!/creekhilife
*We have an instagram account we just started for photo shoots to share at creekhilife on instagram.
We put stories that may be in print as well on this online paper here and update.
*We were in on the ground floor of the Huffington Post's High School page.
HILIFER HALL OF FAME-just a few-too many to post all
~Our Chris Kirkham, class of 2002, was a paid reporter for the Huffington Post business page. He is now with the Los Angeles Times. Check him out here http://www.latimes.com/la-bio-chris-kirkham-staff.html
~Our Lee Hutchinson, class of 1998 recently joined the Conde Nast group of publications as an online editor for Ars Technica. His bio is here along with his recent technology articles http://www.arstechnica.com/author/lee-hutchinson
~Our Chris Schmidt, class of 2006, is the Communications Coordinator for UIL in the state of Texas http://www.linkedin.com/in/chrismschmidt
~Our Haley Rush, class of 2009, is the newest reporter for station KRQE in Albuquerque, NM http://krqe.com/staff/haley-rush/
~Cindy Sierra is Public Relations and Marketing Manager for Whataburger.
~Cassie Lee did this awesome commercial for JEEP https://www.youtube.com/watch?v=YM-th85hRUU
~HiLifers cover the globe with Nathan Weyer, class of 1990, as a creative director for Frog Design in Amsterdam
~Honorary HiLifer Lovetta Conto of Strongheart Fellowship in Liberia is at the Parsons School of Design in Paris.
~Dixie Hairston 2007 took medical supplies to our orphanage in Nairobi, Kenya. She was also chosen as a representative to the UN to make global changes for good. She works to stop Human Trafficking in the US.
~Olivia Huynh http://fortune.com/2015/05/26/artist-sally-ride-google-doodle/
~Allie Hinga 2011 http://www.joplinglobe.com/news/local_news/allie-hinga-budding-artist-looking-to-make-her-name-known/article_a3aa2663-b041-552b-bed1-dbe000ed7740.html
There really are too many to list so let me end here with a recent Facebook post…
Fun Fact: I graduated from Clear Creek High School in 2008 (Drew Walker) and Mark Jensen, owner of The ABGB in Austin, graduated from there in 1986. We had the same journalism teacher who introduced us because she knew we were both in the live music game. Mark ended up booking Taylor and the Wild Now (Drew's group) to play ABGB next Wednesday at 9 PM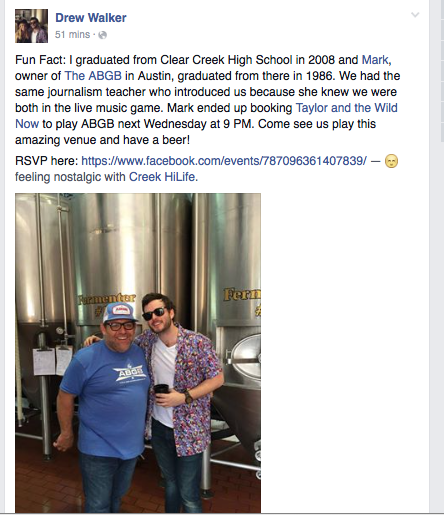 The HiLife has worked with and done fundraising for many activities including soldier care package drives, started the Ray Hutchinson scholarship for our fallen soldier who was a former HiLife photographer, Invisible Children, the 9/11 Red Cross fund, and Tsunami survivors twice. We are putting two orphans through school at the Cura Orphanage in Kenya through our partnership with the Creative Visions Foundation http://www.creativevisions.org/
We continue to work with and for the Eldon family led by the spark of inspiration who was the photojournalist slain in Somalia, Dan Eldon http://www.daneldon.org/site/ and http://kathyeldon.com
Let us know how we may better serve you. We are here for YOU, the people who care about CREEK~the best high school in TEXAS.
We are leading CREEK journalism under the mandate provided by CCISD-
Clear Creek Independent School District Mission Statement
The mission of the Clear Creek Independent School District, a diverse community unified by a spirit of exploration and excellence, is to develop students who will lead the way to the future by educating and equipping them with the skills necessary to excel in the 21st century through a system characterized by meaningful community relationships and a comprehensive curriculum facilitated by a highly qualified team committed to Courage, Collaboration, Innovation, and Self-Direction.