Rare quintuplet girls born into a League City family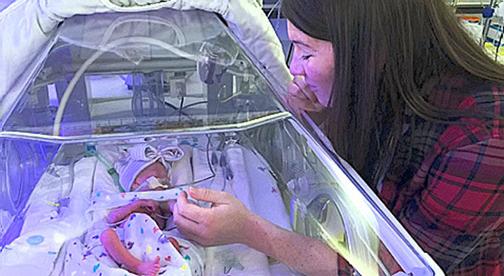 Emily Berthiaume, Teen Interest Editor
May 6, 2015
The first set of all-girl quintuplets to survive in the United States was born on April 8 at the Woman's Hospital of  Texas to the Busbys, a local League City family. All-female quintuplets are so rare that the most recent time it happened worldwide was in 1969.
Mom, Danielle, dad Adam, and four year old now big sister Blayke welcomed Olivia Marie, Ava Lane, Hazel Grace, Parker Kate and Riley Paige at 28 weeks and two days. It took only four minutes to deliver all five babies via C-section.
"We are all so thankful and blessed," Danielle Busby said.
Adam and Danielle have been blogging their unique experience at itsabuzzworld.com and on their Facebook page, which currently has over 42,000 likes and growing.
According to their blog, the couple struggled with infertility for two years before getting their first daughter, Blayke. They then began the process again, using infertility drugs and intrauterine insemination, or IUI, and hoping for another.
"I remember telling her, 'look, I don't want to do this a third time, it's just a lot, so let's hope for twins'," Adam said in an interview with ABC13 before the girls were born.
When they found out not only were they pregnant, but with multiple babies, they were shocked.
"He about passes out," Danielle said. "I started laughing, and was like, 'Is this really happening?'".
In early ultrasounds, there only appeared to be four embryos. However, one soon split to become identical twins Ava and Olivia, which is extremely rare. According to their blog, the doctors soon wanted the Busbys to "reduce" in order to reduce the health risks for both the babies and Danielle.
"We held our convictions as Christians and told [the doctor] that our heart would not change and we were committed to these five miracles to the very end, no matter what the outcome," the Busbys wrote on their blog. "Our God is much bigger than this and we trust that He is holding all five of the babies in his hands…we [were] not going to make a decision based on the possibilities of what bad could happen. There is too much good it we rely on our faith in Him."
At 15 weeks, an ultrasound revealed that Danielle was pregnant with four girls and one boy, however, a later ultrasound revealed that it was in fact five girls. The last time five girls were born together in the United States was in 1959, however, none lived long past birth.
According to Dr. Jayne Finkowski-Rivera, the Women's Hospital of Texas NICU Director who helped deliver the girls, they are all "in the appropriate weight range for their gestational age, which is due to their mother's excellent efforts to have the healthiest pregnancy possible. They have a strong start in life, and we are excited to watch them grow and mature," she added.
At a couple days old, the babies only required "modest support" to breathe.
"Danielle is a trooper, and her positive attitude definitely shined through her pregnancy and the delivery," Doctor Alexander Reiter, Maternal-Fetal Medicine Specialist with Houston Perinatal Associates, who delivered the quintuplets with help from a dozen other medical personnel, said.
Since the birth of their little miracles, Adam and Danielle have appeared on Good Morning America and The Today Show and their story has been covered by countless news outlets, from CNN to Daily Mail UK to New York Daily News to USA Today to Time. According to their blog, all the media coverage has been "overwhelming" and "crazy" to see themselves on TV.
During the interviews, the Busbys stress how well the babies are doing and how much their life has already and is going to change. In a video update on their YouTube channel, Adam and Danielle noticed that the babies "little quirks" are beginning to show through, even at their extremely young age.
"I know I have six daughters now, and I have a joy for kids, but never in my life did I think I would have six kids, yet alone six girls," Danielle said in a press conference.
"We have a lot of getting used to to find out what our new norm is going to be," Adam said in a video on their YouTube channel.