Creek varsity water polo succeeds in district meet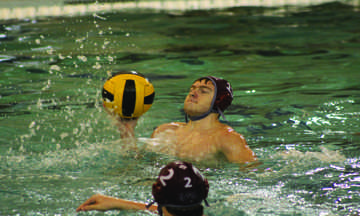 Creek's varsity water polo team has continued to succeed in district, as shown in their match against Clear Falls High School. For years, the team has continued to have success during their district game.
The water polo game ran seven minutes per quarter. There were four quarters in the game. During which, there are six field players and a goalie. The object of the game is to put the ball into the other team's goal. Every player has to be able to do defense and offense. The field players can only use one hand to hit the ball while the goalie can use both hands in order to block their opponent.
Both the girls and boys team won their matches with an ultimate score of 13 to 12 and 13 to 3. The girls went into overtime and won by making the first goal in overtime.
"I was very happy," Coach Woolweaver said, speaking on how things turned out.
Kinley Foster was very proud of his team and felt Falls had their defeat coming.
"We crushed Falls as usual, which was kind of payback since the last time they played us, we didn't have some of our regular starters so they won," Foster said.
The game continued to have many highlights. Jordan Castillo scored the last winning goal for her team.
"It felt great because my teammates were very proud of me," Castillo said.
Other highlights included how Todd Lyle was able to shut down Fall's best player. Foster noted how the boys "shut down" Fall's offense and made them not core for an entire half. He also felt a major highlight was "every time a teammate buried the ball in the Falls goal." Coach Woolweaver noted how there were six on five offenses on both teams. This means someone on Fall's team was put out of the game for not doing something right which led to the team being outnumbered by Creek.
What was really common in both the girls and boys game was that both worked together greatly, allowing others who normally do not score to get points. Gibbson Fleming got six assists and told of how there was much more sharing of the ball, as well as Jordan Castillo.
"I felt good about it. It's team effort and lets other people know how it feels to score," Flemming said.
Logan Wene felt the boys did very well in both defense and offense.
"It just shows we made a lot of improvement," Wene said. "I was kind of nervous because we lost to Falls earlier in the year."
Wene told of how the season started off rather rough.
We were losing against teams we normally beat. But once we started showing up to practice more we started getting better," Wene said.
Coach Woolweaver supported the statement, noting how both teams struggled with illness, injuries and the team has been rebuilding due to the many seniors who graduated last year.
"We just weren't as consistent," Woolweaver said. "We'd play really hard one game and not as hard the next."
Nevertheless, Fleming said the season has been "pretty impressive."
"Everyone's trying their hardest," Flemming said.
With the goal of getting to district complete, the team is now working towards their number one goal: preparing for state.
"But as a team, work better with one another and increase the group cohesion." Foster said.
The team has already made their way through regionals, in which boys made their way to second, qualifying to state and girls came in fifth.
The team has also been working on their personal goals as well. Foster told of how his goal was to help his team "perform at its max potential."
The team continues to work hard as they prepare for state and the championships.
"Even though we have lost a lot of the seniors we used to have in the past, our team can still excel this year and in future years," Foster said. "We will make it to the championship and surpass the expectations of anyone who doubts us."