Softball enjoys victory against Brook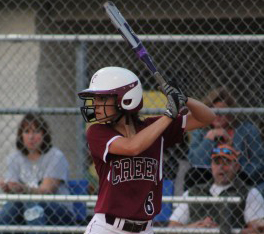 The Creek varsity softball team enjoyed another victory on against Clear Brook High School on April 2. The team ultimately won with a score of ten to four, a rather uncommon score according to softball Coach Andrea Cash.
"That's a very high scoring game." Coach Cash said. "Normally you hear four to two, five to one, six to three. That's really what you ought to highlight in this game. Our bats were really swinging."
Coach cash credits their success to "being really patient at the plate and hitting the right pitches.
The team earned a score of six to one in the first round. Coach Cash noted that every game they had from now on was important if they wanted to be in the top four for playoffs.
"Every game's huge from now on," Coach Cash said. "We're all fighting for four spots because only four teams make it to the playoffs. There's five teams fighting for four spots right now."
Eight teams overall compete for the spot. These include all the schools in the school district. Cash stated that three of the five teams are currently at the bottom and aren't very close to making it to the top four.
"So every game is crucial." Cash said. When we played Brook that Thursday, that was the start of the second round."
Cash stated the biggest highlight of the game was the offense.
"The score was ten to four and we had a lot of offense," Cash said. "We had over fifteen hits and a very high scoring game."
Cash told of her satisfaction with her team and their accomplishments.
Katlyn Rivera was the winning pitcher.
"It was really exciting," Katlyn said. "It put pressure on me but I like pressure. I feel I do better when under pressure."
Katlyn said in general felt the game was exciting and intense.
"All the games are," Katlyn said. "It was easier than the first game due to pitching and I guess our hits were good."
Jordan Conner also spoke positively of the game.
"We won so it turned out pretty well," Conner said. "We worked out well. We had good communication so that's always good. I felt really good and it's always good to win."
Jordan also told of the success the team has had so far.
"Our record's currently eight to one and we've had a lot of fun," Conner said.
Vanessa Gonzalez expressed her thoughts on the game.
"At first things were tight because we had new defense," Vanessa said. "By the second inning everyone started hitting and that's when we scored."
She spoke positively of teammates Sam Skladal and Katlyn Rivera. She too told of how Katlyn struck out the last bat of the game.
"She had nice strikes," Vanessa said.
Sam Skladal hit a triple and scored three runs, which helped them in getting a higher score.
The success of the team this season has certainly not surprised Vanessa.
"It's been no surprise," Vanessa said. "It's showing all our hard work is off so far."
Coach Cash also told of how the season has been so far.
"We got off to a slow start in preseason. We were in a couple of tournaments and preseason is really a time to get out the kinks, seeing what you got offensively and defensively. District is what really counts and we're doing very well in district right now."
For now the main goal for the rest of season is to keep playing and make their way to the playoffs and make their way to the quarterfinals on May 16, 2015.