Donate to scholarship in Coach Jordan's name
Donate to Scholarship in Coach Jordan's name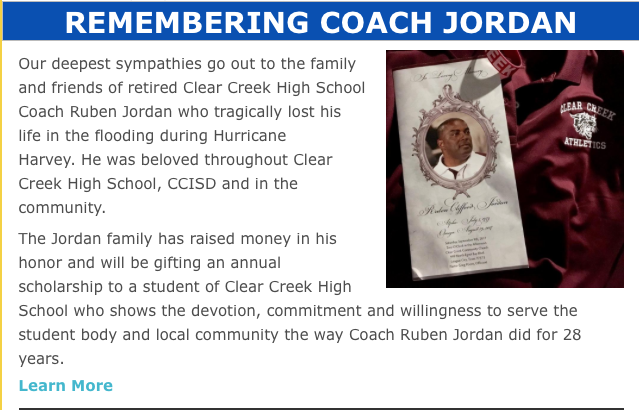 https://www.youcaring.com/coachrubenjordanmemorialfoundation-931558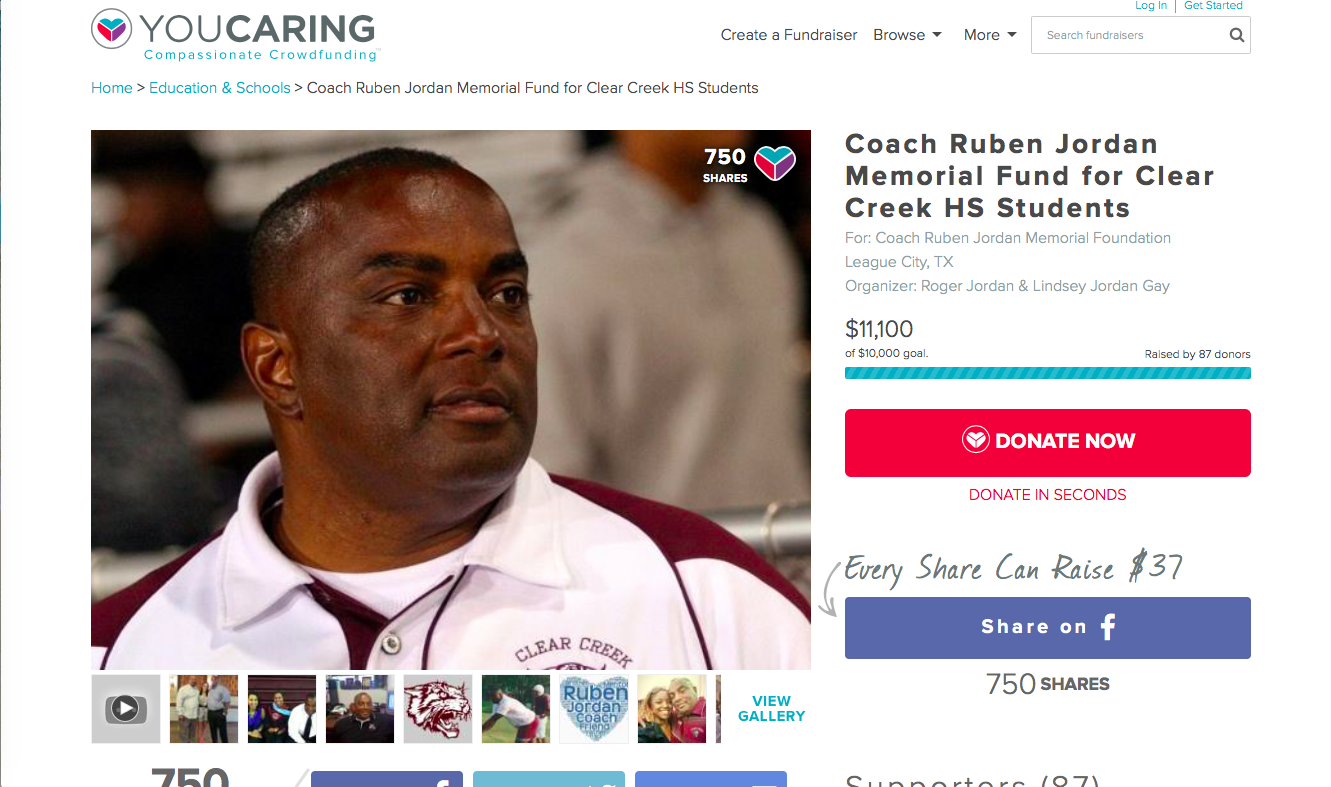 All proceeds from this account will go to a scholarship for Creek students.
From the you caring website~written by Roger Jordan
Our father, Ruben Jordan was a pillar in the League City community. He thrived not only as teacher and coach, but as an advisor, mentor and father figure to the students he touched during his 28-year career at Clear Creek High School.
A gentle giant known for his calming yet intimidating presence, made a point to speak to every student and teacher with whom he came in contact with on a daily basis. He could give a look better than any other person on the planet. His glaze and stare that were both piercing and inviting, either way you knew he meant business. He made an impact on every single person that he met which was never more obvious than by the thousands of messages left by his former students, athletes, and friends at the word of his passing.
With our father's innate ability to establish unique bonds with a multitude of people, the level of impact he had on the community is truly immeasurable. Having served such a long tenure at Clear Creek, Coach Jordan was able to bless generations of Wildcats with his extraordinary rapport and confidence build qualities. This led to a countless number of life long relationships.
A true pioneer and trailblazer both at school and in the community, our father dedicated his life to seeing the areas youth prosper and get one step closer to not only reaching but achieving their goals. Be it in the classroom, on the track or football field, Coach Jordan found a way to uplift and pull the best out of you. Instilling confidence and certainty was one of his primary focuses, all while knowing that one who was not at his or her best wouldn't be capable of performing at their best. He would go as far as sacrificing his own pride and convenience to place a strong emphasis on the importance of respecting and serving others. There was no limitations to the extent he would go show love and support. He was a great listener and always an advocate for his students. His giving heart shown through when he would provide rides home after a long days practice or adopting local families in need during the holidays.
In honor of our father's brilliant legacy, we are committed to seeing that his impact has no end. We will be offering a annual scholarship to a special student of Clear Creek High School that shows the devotion, commitment and willingness to service the student body and local community the way our father Coach Ruben Jordan did for 28 years.
https://www.youcaring.com/coachrubenjordanmemorialfoundation-931558