NASA High School Aerospace Scholars application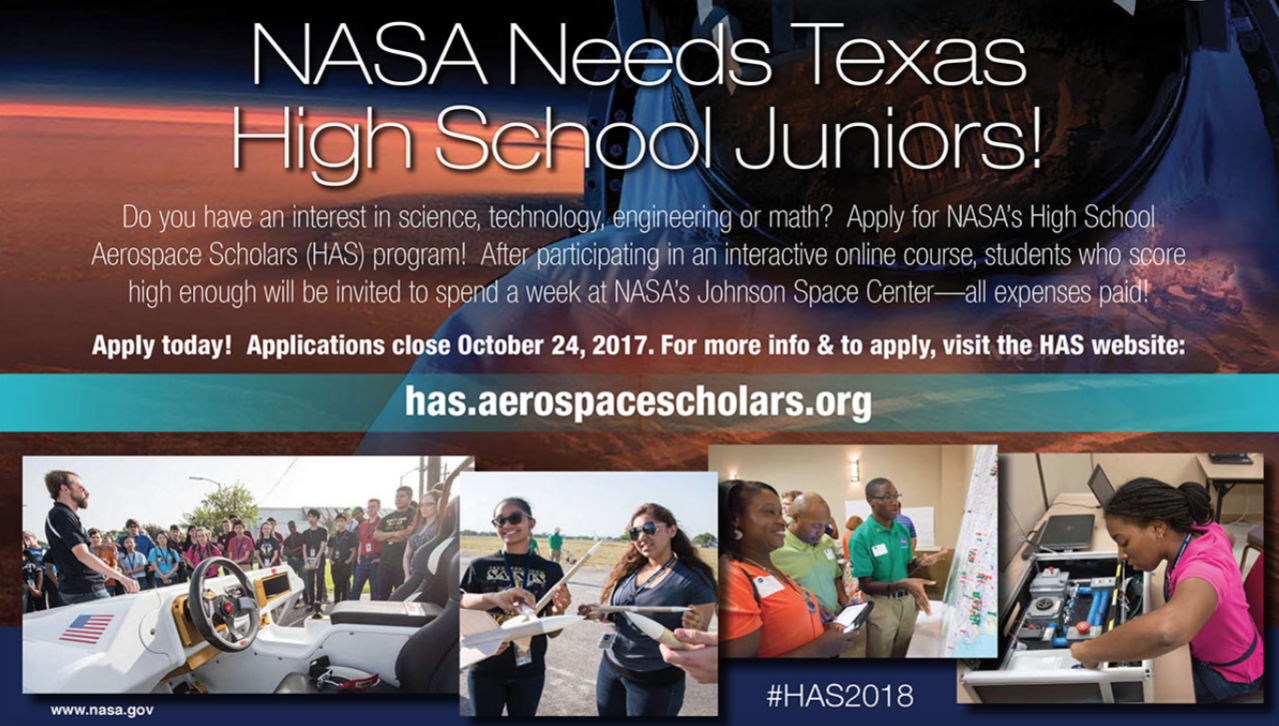 A reminder: the NASA High School Aerospace Scholars application deadline for TX high school juniors is quickly approaching. The deadline is Wednesday, October 25th, 2017. There is still time to apply, please share with your networks. Please contact us with any questions!
HAS Team, #HAS2018
NASA Johnson Space Center
Office of Education
The High School Aerospace Scholars application is now open at: http://has.aerospacescholars.org.
High School Aerospace Scholars (HAS) is a NASA unique opportunity for juniors who are interested in science, technology, engineering, and math (STEM) at no cost to participants.
Selected students will participate in an interactive, online course during the school year that culminates in an all-expense-paid trip to NASA's Johnson Space Center in the summer. During the online course, students will investigate space exploration challenges by creating technical drawings, solving math problems, and participating in discussion forums with NASA engineers and scientists. Texas certified teachers guide students through the online curriculum and grade their work. After a competitive review of online material completed and submitted, selected students are invited to Johnson Space Center. Throughout this six day trip, participants will work with NASA mentors to complete engineering design challenges and plan a mission to Mars. Students will be briefed on the past, present, and future of space exploration by NASA engineers, scientists, and special guests while touring NASA's facilities.