Wildcat Web News 10.20.17
10/20/17
If you would like to order a Creek Volleyball playoff shirt please email Coach Simonds at [email protected] with what size you're wanting and a check/cash for $15 can be put in Coach Simonds teacher's box.  Checks can be made out to CCVBC.  These are a maroon short sleeve shirt and the order must be placed by end of the day tomorrow (Friday 10/20/17). See shirts Below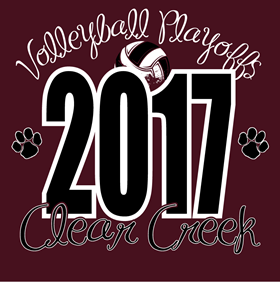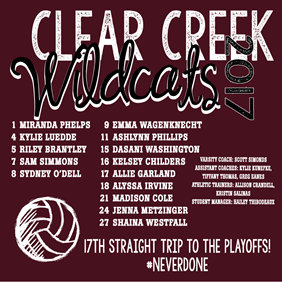 Clear Creek Wrestling Booster Club is having a Spaghetti Dinner on Tuesday, October 24.  Tickets are $10 a piece.  They can be purchased from any wrestler.  You can also contact coach Williamson at ([email protected]) or C-105.
Tuesday, October 24, 2017
5:30 to 8:30 pm
Franca's Real Italian Restaurant
1101 NASA Parkway
Houston, TX 77058
Please come support CCHS Wrestling
College Visit Information:
Baylor University will be visiting the College Center on Wednesday, October 25 during 3rd period and The University of Tulsa on Friday, October 27 during 2nd period. Interested students can sign up in Naviance or visit the College Center for more information.
The University of Texas at Austin is hosting a Meet UT Night at Clear Lake High School auditorium next Tuesday on October 24, 2017 from 6:30 PM to 8:00 PM. Jane Vo will provide a formal presentation to all students and parents who attend regarding our admissions process and the next steps students should do after their application is complete. We invite any Seniors who may have started an application for UT Austin or still undecided on whether or not to apply and any Juniors who want to get an early start at exploring our requirements and get informed of the current changes we have made for next year's application cycle. We currently have space available and students are able to register here.