CCHS Generation Texas Week
Ashleigh Lewis, Reporter
November 15, 2017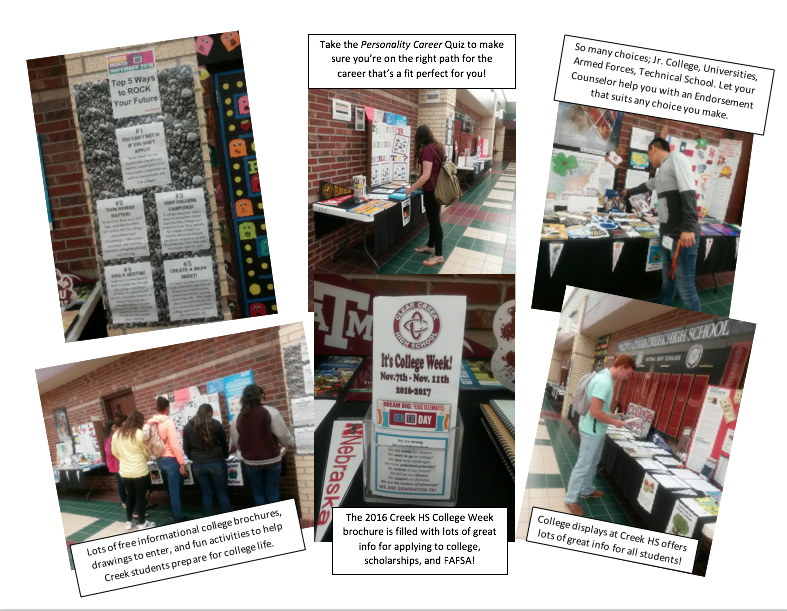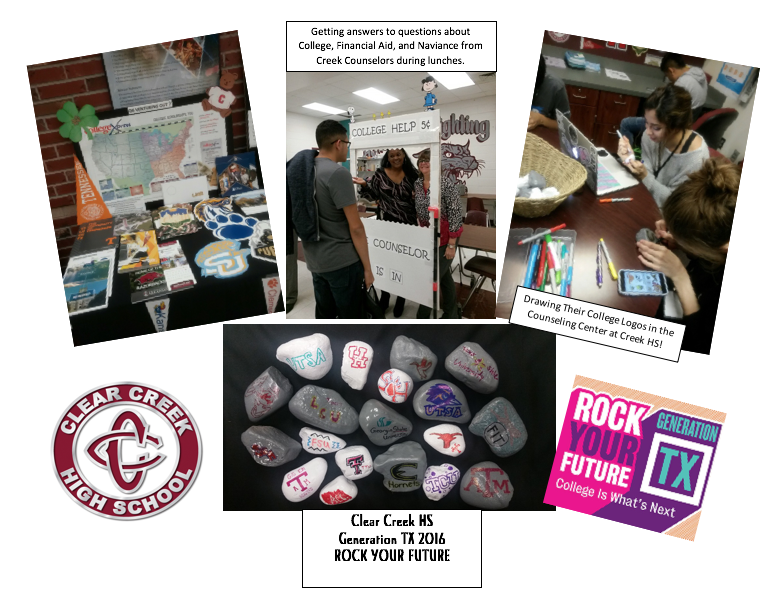 Graphics by Terry Vaschisko
story by Ashleigh Lewis
A special event for Wildcats' seniors will be presented on November 15. CCISD's annual college and career fair will take place at Clear Falls High School from 6:00 to 8:00 p.m. All students from CCISD will be welcomed when they go to CCISD'S Education Village.  PTSA  will provide light snacks and drinks.
For CCHS Generation Texas week, Creek's Counseling Department will have several different events and lunch-time activities for current students.  November 13 – 17 the Counseling Department will have a Let's Kick It Off door decorating contest for teachers.  Counselors believe this will be a great opportunity to share information about teacher's degrees and college experiences with students. Teachers recruit their students to help them decorate doors. Teachers who participate will earn a free jeans day pass.  The Counseling Department will present slideshows during school lunches.
November 13, there will be a morning announcement from the counseling department. The counseling department will also show slides all week on the big screen in the cafeteria during all three lunches. The lead counselor will pass out brochures. Wednesday will be military or college t-shirt day.  As, students walk between their classes, the Counseling Department will play college fight songs. Teachers can wear jeans to work if they are wearing a college or a military branch t-shirt on college T-shirt day.
November 14, there will be a morning announcement about Naviance and a logging in to update your college choices. At lunch-time, there will be a fun activity which the Counseling Department has named it "Rock your future". You can paint a rock that can have any college logo or have any college color of your choice.
November 15, it will be a dress up day theme. Students have a chance to wear any college clothing. There is a special lunch-time activity that the counseling department decided to create. The counseling department with help with college quiz for candy. The winner will get a special prize. The College and education village will be open from 6-8pm.
November 16, the college department will submit an announcement for 1st, 2nd, and 3rd place door decorating contest winners after the judges come to a conclusion. There will also be, a morning announcement reminding seniors to complete their college applications. If you want to request any transcripts there then go by the counseling center display table. Not only will there be a lunch-time activity there will also be an extended third period activity. Audio and visual students will put together a "Name that mascot" video for classrooms to guess and call down to the counseling center for a donut party.
November 17, the counseling department will submit an announcement for the morning reminding seniors to complete their FAFSA and to stop by the counseling center display table. This will be a special lunch-time activity.
The college fair will be a great time for students to focus on their career and a brighter future. Creek wants you to take the time to think about your career goals. No matter, what level you are in either intermediate or a high school student, you are still welcomed.
Not only are students welcomed, parents and friends are invited too. CCISD encourages you to attend the CCISD's annual college and career fair. As you begin the process, they will figure out a graduation endorsement and education pathway plan for each and every individual. It will be in the most organized fit.
There will be plenty of volunteers, which includes nurses, engineers, teachers, counselors, police officers and much more. There will be a variety of different career areas from medical science, allied health services, engineering, business and marketing, petrochemical, industries, law and public safety to architecture construction. These professionals will talk to students and parents. If you have any questions, comments, or concerns they will be delighted to help you.  It will be a good insight into their personal educational pathways and career experiences. They are here to help you.