Wildcat Web News 11.27.17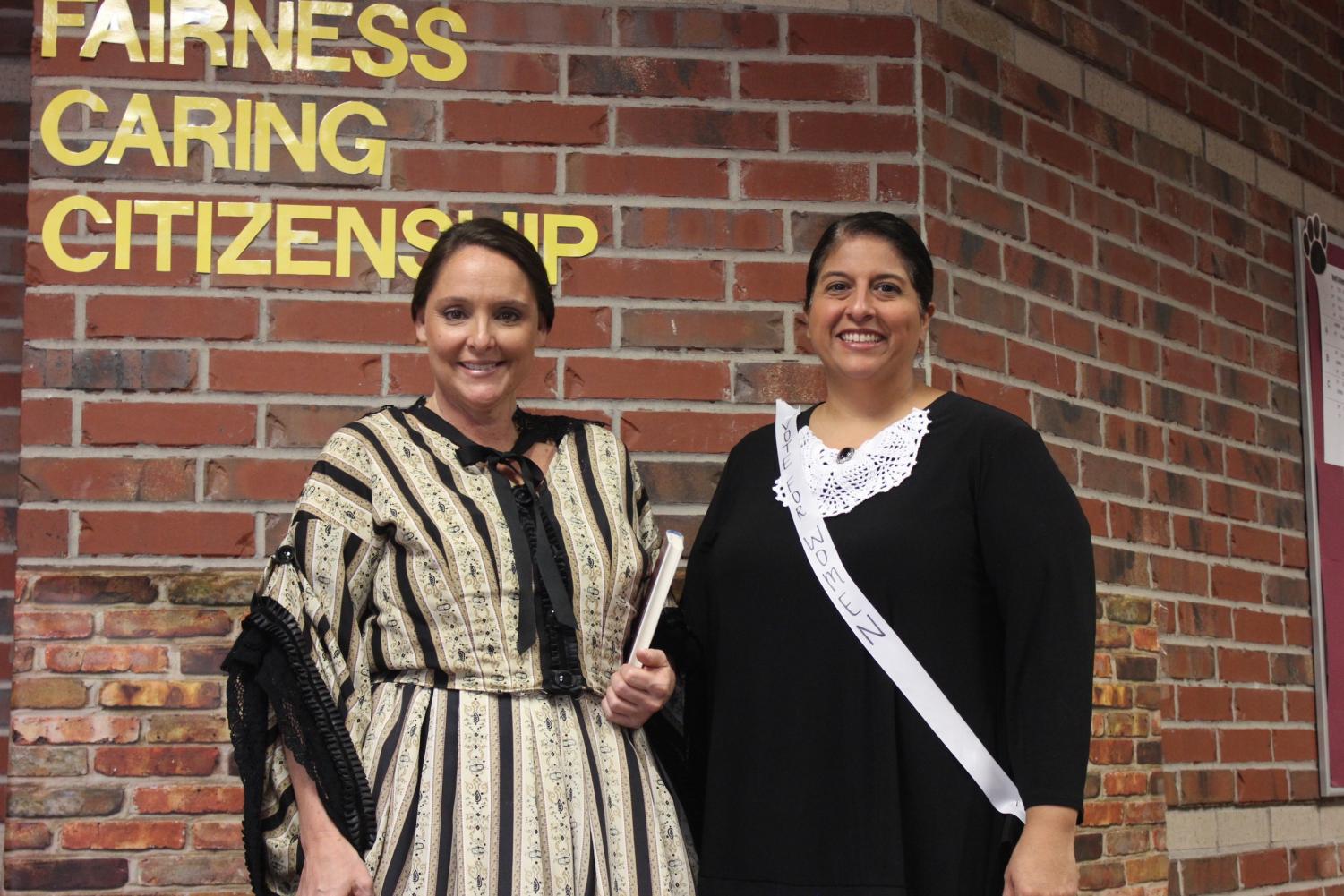 Ms. Perry Johnson and Ms. Lisa Watkins participating in Who am I Day? More photos here https://creekhilife.com/15147/around-creek/2nd-annual-who-am-i-day/#slideshow
Photo by Clarissa Valcoviak
11.27.17
Girl's Soccer Tryouts:
Girls Soccer Tryouts will be held on Monday 11/27 from 3-5pm and Tuesday 11/28 from 3:30-5pm. If you are interested you will need to have an up-to-date physical. Please visit Coach Hutch in room C116 or Coach Penney in room E206 for more info
Annette Kuykendall
On November 16-18, 24 students from the Clear Creek Theatre Department travelled to the Gaylord Texan Resort in Grapevine for the Texas Thespian Festival.  This annual event has grown to nearly 8000 student attendees.  Throughout the three days of the convention the students attended workshops, saw fully-produced performances from around the state, competed in adjudicated Acting, Musical & Technical Theatre events, auditioned for colleges, and celebrated the work of other young artists.
The National Individual Event competition portion of the Festival affords the students the opportunity to qualify for the Thespian National Festival in June.  In order to qualify, an Actor or Technician must receive an overall Superior ranking from a panel of three judges.  This year, over 2000 students entered National Individual Events.
The Theatre Department is proud to announce that this year we have four students who qualified for Nationals:
-Mia Carter & Hannah Russek – Duet Musical
-Sutton Anderson & Madison Vansco – Duet Musical
In addition, five members of our Improv Troupe entered the Texas Thespian Improv Tournament.  Out of 52 competing schools, our Troupe advanced to the Semi-finals round taking Third Place for the second consecutive year.  This year's competing Improv students were:
-Riley Tamblyn, Lillian Meade, Aizah Rahman, Rodney Long, & Marilyn Cruz (Alternate)
Finally, we had two students Audition for Colleges and both received callback interviews:
-Shelby Pyle (2 Callbacks)
-Victoria Blackburn (11 Callbacks)
I was incredibly proud of the many wonderful ways our students represented CCHS throughout the 2017 Texas Thespian Festival.  They were supportive audience members, gracious competitors, and eager students.
Thanks!
Bradley Hewlett, Theatre Director
Good morning, Wildcats!  The Creek PALs have challenged Falls, Lake and Springs and their PAL programs in a Teddy Bear Drive.  Beginning Monday, November 13 through Friday, December 1, please bring any new or gently used teddy bears to any pod office.  These teddy bears will be donated to hospitals, shelters and local law enforcement offices.  Help show the rest of CCISD that Creek is the best!
Thanks!
 Becki Bryan
Tis the season for a Cat Corner clearance sale!The store now has discounted shirts for as low as $3 – that's right, just $3! So here's your chance to stock up on Wildcat apparel right before the holiday season. Sizes and quantities are limited so stop by the Cat Corner today and get a few shirts while supplies last.
The Cat Corner school store is the only place on campus where you can get drinks, snacks and Wildcat apparel all under one roof!
Shawn Mosley