EXTRA~EXTRA Read all about it December 2017 print HiLife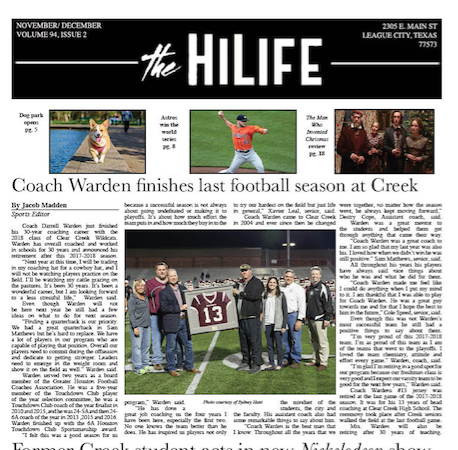 Creek is the first and still the best high school in the district. We consider it to be the best high school in the state of Texas. We LOVE reporting the good news that happens at CREEK on a daily basis. Feel free to share-everywhere. Merry Christmas, Happy Holidays and so on. We deserve some good times after Hurricane Harvey hurt so many.
We LOVE our advertisers and know you will too. Please stop by and enjoy all that they have to offer. See our list below. Papa John's has a great coupon.
Tutti Frutti                             
San Lorenzo                                       
T-Bone Toms                        
TeamSeverson.com               
Papa John's                            
Stream Energy                                   
Shipley                                   
Salata                                     
Mr Sombreo                           
Doodles Baby                         
Escape Kemah~The Experience