Selena Quintilla honored with Hollywood star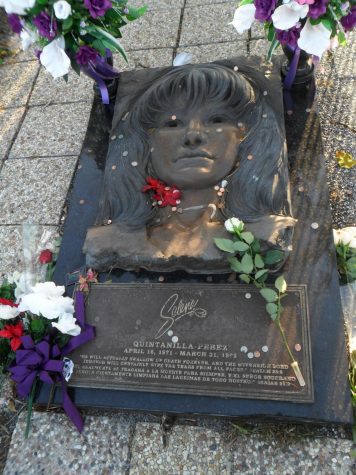 Selena Quintanilla, a cherished Mexican-American, was honored with her own star on the Hollywood Walk of Fame on November 3, 22 years after her fatality. The unveiling was done by Quintanilla's own sister, Suzette Quintanilla and Chamber of Commerce, President Leron Gubler. Quintanilla's family also attended the ceremony, as well as her widower Chris Perez.
"Before there was [Jennifer Lopez], Shakira or Beyoncé, there was a transformative female artist called Selena. Selena is one of the most influential music icons of the 20th century; her music, style and smile are timeless and now her star will grace our city forever." Otto Padron, president of Meruelo Media, said.
"Selena said the goal isn't to live forever but to create something that will. And I think tonight is a perfect testament of that." Suzette, Quintanilla's sister, said at the reveling of the star.
The unveiling of Quintanilla's star took place in front of the Capitol Records building at 6:30 pm. That night, over 4,500 of her fans attended, along with another group of 4,000 fans of mariachi singer, Vicente Fernandez, who also attended the ceremony. The Mayor of Los Angeles, Eric Garcetti and Eva Longoria also appeared at the unveiling of the star. The Mayor proclaimed November 3 as "Selena Day."
"This day is finally becoming a reality and we cannot be any happier. We are grateful Selena's life has been an inspiration to so many, and we hope it will continue to encourage people to follow their dreams." Suzette, Quintanilla's sister, said.
Selena Quintanilla was known as the "Queen of Tejano Music" by her beloved fans. She was a Mexican-American singer and songwriter. Quintanilla sold over sixty million albums worldwide. Her album Ven Conmigo became the first Tejano record to reach gold record status. In 1993, she won the Grammy award for best Mexican-American album for her album Live. A year later Quintanilla and the band, Selena y los Dinos, toured. That same year, they released the song Amor Prohibido which instantly went gold.
The late Tejano singer was the youngest of her two siblings. At a very young age, Quintanilla recognized her passion for music. At the age of ten, she began to perform in a band as the lead singer featuring her brother, AB Quintanilla III, on bass guitar and her sister Suzette on drums. The band was known as "Selena y Los Dinos." Their father Abraham Jr., a former musician, produced and managed the group. They started out playing for weddings and then clubs and became known to the world.
The late singer was also a model and a fashion designer. On January 27, 1994, just a few months after she won her Grammy, Quintanilla opened her own boutique named "Selena Etc," which was a Texas based boutique, clothing store and salon. Quintanilla only opened two boutiques, one in Corpus Christi and the second in San Antonio. Both boutiques were closed a few years after her death on July 1, 2009.
Quintanilla's last concert before she was fatally killed by the president of her fan club, Yolanda Saldívar, on March 31, 1995, was at the Houston Astrodome February 26, 1995. Quintanilla's family released her final album posthumously, crossover of English and Spanish, Dreaming of You, July 18, 1995, and it ultimately became her number one album on the Billboards 100 chart.
On October 17, Google also premiered their first Selena Google doodle to celebrate her life and legacy. The doodle was of the late Mexican-American animated cartoon performing her hit song Bidi Bidi Bom Bom.
"I grew up as the daughter of a Mexican immigrant single mom living in a small (primarily white) town outside of Fort Worth, Texas. There were always two women who taught me I could do anything and be anything I set my mind to: my mom and Selena. Selena has been a part of my life for as long as I can remember." Perla Campos, project manager for the Selena doodle and Global Marketing Lead for Google Doodles, said.
Quintanilla changed the music business in many different ways. She broke the barriers of the male-dominated music industry and she also introduced Latin music into the industry. She also became the first Tejano artist to win a Grammy. After 22 years of Quintanilla's passing, her legacy continues to change many young Latinas' lives by inspiring them to never give up.
"Always believe that the impossible is always possible." Quintanilla said.