Wildcat Web News 1.18.18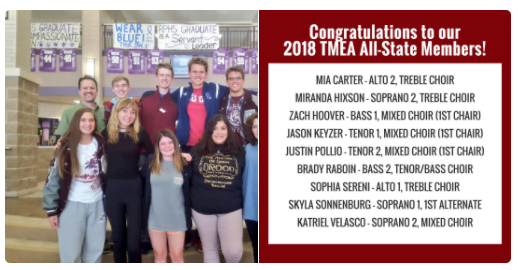 1.18.18
Due to inclement weather impacting Dress Rehearsals, performance dates for The Mystery of Edwin Drood have been changed to January 20, 22 & 26-27. Tickets for Jan 19 will be honored at all new dates. Thanks for your support!
Brad Hewlitt
Games tonight for girls basketball. Thursday Teacher Appreciation!  We have rescheduled those games for tonight, Thursday, with the same games times of freshmen @ 4:00, JV @ 5:30, and Varsity @ 7:00.
Kristi Odom
Boys basketball announces Gameday today! We play a tough and talented Lake team today at Krueger fieldhouse. It is the oldest rivalry in 24-6A dating back to 1972. Come out and support your wildcats! Game starts at 7 come early be loud! #t.e.a.m.
Boys Basketball
Congrats to Jeffery Lim who received Special Merit in the Houston Livestock Show and Rodeo School Art Competition. Congrats to Isabel Hu who received Special Merit in Houston Livestock Show and Rodeo School Art Competition. Congrats to Angelina Yoon, Gold Medal, in Houston Livestock Show and Rodeo School Art Competition.
ART Department
Congratulations to Pamela Richardson for her verbal commitment to play softball for Texas Southern University, and Kelsey Bunch who verbally committed to play for Lamar University.
Lady Wildcat Softball
Attention sophomores and juniors: If you have a 4.5 GPA or higher, you may be eligible to join the National Honor Society.
Besides high grades, membership in NHS requires participation in school organizations, volunteering in the community and demonstrating good character both in the classroom and outside of school. Proper documentation of leadership and volunteering is required so please start this process now so you can have your application ready for the February due date.
If you are interested in joining this prestigious organization, please see Mrs. Slazer in D222 to pick up an application.
Mary Slazer
2018 Lunar Rendezvous Festival Court Applications Available
Applications for the 2018 Lunar Rendezvous Festival Court are available online at www.lunarrendezvous.org Eleventh grade students who are interested in becoming a Princess or Lieutenant are encouraged to complete an application. All completed applications must be emailed to [email protected] no later than January 31, 2018. An informational meeting will be held on Sunday, January 21 at 3:00 pm at the University of Houston – Clear Lake Bayou Building.
The 2018 Lunar Rendezvous Festival will feature events such as the Dining Night, Golf Tournament, Fun Run, Sunset Service, Fashion Show and Coronation Ball. Now in its 53rd year, the Lunar Rendezvous Festival is dedicated to providing community based support including scholarships for higher education, youth development, educational programs, and funding for the arts and historical preservation in the Bay Area Houston/NASA area.
Shannon Herd
Lunch time College Fair will be rescheduled. Stay tuned for more details.