Namaste to Creek's new Yoga Club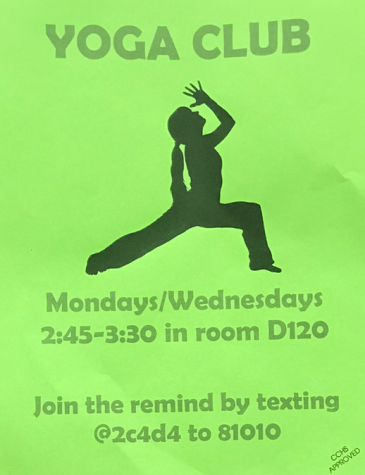 Ana Vallejo, a junior at Creek, recently started a yoga club available to all grade levels. The club started in January, 2017, and is a place where one can meditate and learn about the way meditation can improve your overall health. This club can be beneficial to those who would like to prevent injuries from sports or simply just want something fun to do after school.
Vallejo came up with the idea to start yoga club her freshman year at Creek. However, her sophomore year is when the yoga club took off once she had the funds and people to start the club.
"I wanted to start it when I began taking yoga classes outside of school," Vallejo, said.
Vallejo hung posters and talked to everyone she knew in order to get more people to join the club. The club has maintained their number of seven people for each class every week, and Vallejo hopes to gain more people in the future. Ms. Awai, a 10 grade English teacher here at Creek, helped Vallejo fund the club and even lead the classes when she heard about how passionate Vallejo was about doing yoga.
"I would never say no in supporting students in yoga and meditation – two things I feel are necessary for everyone in supporting health, happiness, and individual growth," Ms. Awai, said.
Since the club does not have t-shirts, the funding goes to having field trips and purchasing yoga mats for each individual who joins the club. Ms. Awai, the instructor, was kind enough to donate some mats for use.
"Ms. Awai used to be an instructor and has taught everyone in yoga club so much about yoga and meditating," Vallejo said.
Becoming a yoga instructor can be quite tedious. The average time to complete training can last anywhere from three months to a year. First, an instructor must complete a 200-hour certification, and if ambitious to complete more, a 500-hour certification.
"I have done volunteer classes in the past for teachers at Pasadena High/Middle school. I have done volunteer [SUP] yoga classes, and volunteer park classes. I do not currently work in a studio. I am still working on getting officially certified and [I am going to India this summer to complete training]," Ms. Awai, said.
Like any club here at Creek, there are problems when it comes to getting more people to join. Students tend to have tight schedules and are trying to keep up with out of school activities, which can lead to a decline in the members of a club.
"My biggest difficulty is that a lot of the girls and guys that want to come to yoga have practice after school, so they can't come unless they are in off season," Vallejo said.
However, yoga can be very beneficial to those who participate in it. It helps with flexibility, muscle strength, energy and cardio and circulatory health. Aside from the physical benefits, yoga can also improve mental health. It allows you to relax the mind and be in a state of calmness and self-awareness, which can further lead to better concentration.
"The purpose of yoga is to create strength, awareness and harmony in both the mind and body," Natalie Nevins, a board-certified osteopathic family physician and certified Kundalini Yoga instructor, said.
With yoga being a mental and physical discipline, meditation is a part of that. Once someone has reached yoga asana, or a yoga posture, meditation is intended to follow that.
"I have done lots of research on meditation because there are so many great benefits to learn about. It has helped me physically by gaining some strength from the yoga poses and meditating has helped me a lot for concentrating and being more at peace with myself and others," Vallejo, said.
Only 3.1 percent of children in the U.S. participate in yoga, and only 9.5% of adults in the U.S. participate in yoga. Although not many people participate in yoga, this activity has increased to more than 50% over the last four years. And nearly 50% of people in the world consider themselves to be "yogis," which is someone who is skilled in the art of yoga.
When going into a yoga club meeting here at Creek one might find that each class begins by stretching and end by doing headstands or crow poses. The classes are intended to be fun and relaxed and no one should ever feel nervous when stepping into a class.
"I am always wanting as many people as possible to come. I think that anyone with an open mind can come into a yoga class knowing very little about it. For people that are nervous or scared about trying yoga, doing some research could really help ease their nerves. Looking up some of their questions on Google, reading a few articles with some tips, or watching YouTube videos to do alone and at their own pace are all very helpful ways of getting started," Vallejo, said.
If someone is interested in joining the yoga club, classes are every Monday and Wednesday from 2:45-3:30 in room D120. Join the remind by texting @2c4d4 to 81010.