Wildcat Web News 4.9.18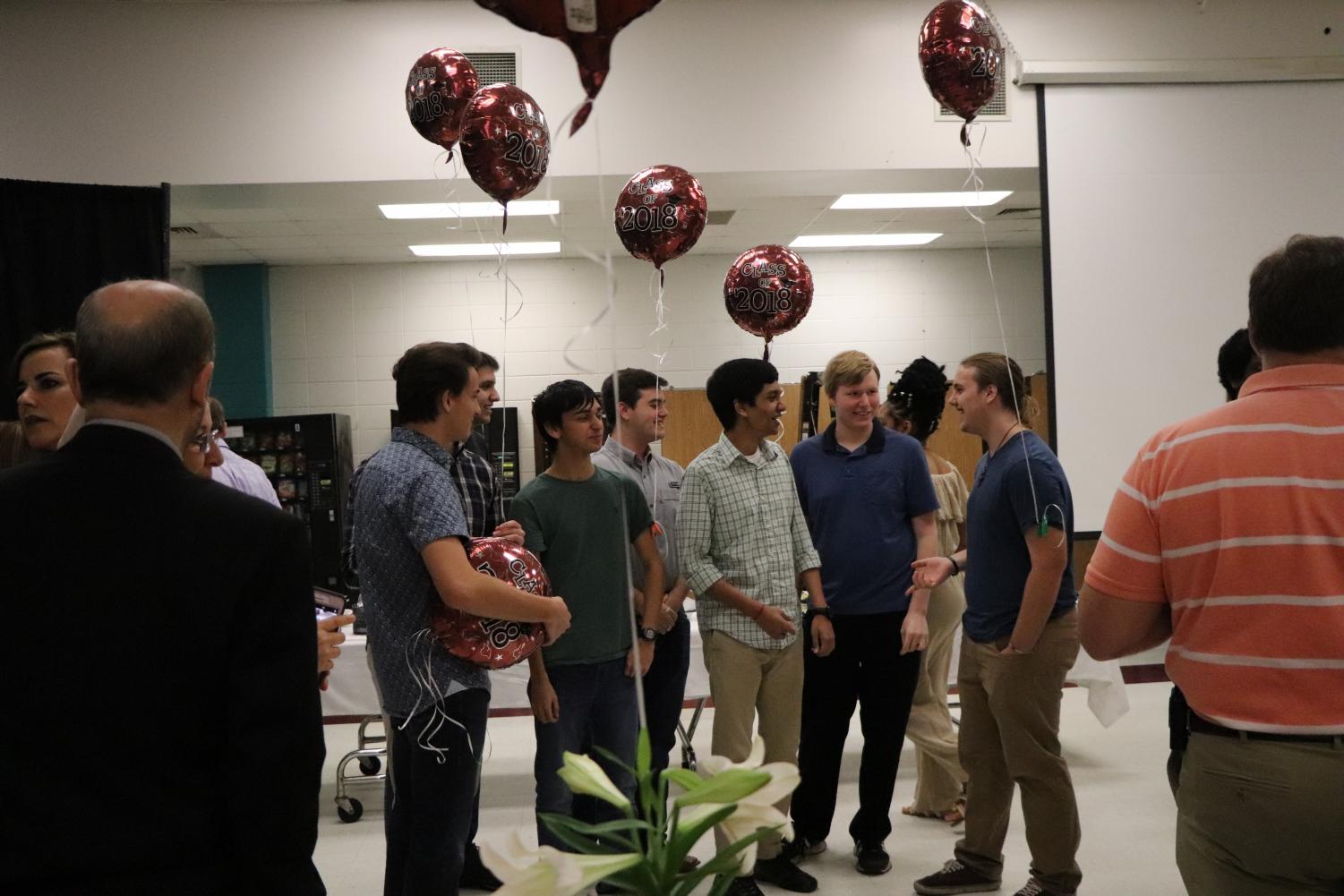 Summas on a break
Photos by HiLifer Danielle Dunavant 
4.9.18
Prom is right around the corner! Prom tickets will be sold April 23 – 27 in the cafeteria during lunches and in the E100 office between 2:30 & 3:00.  You MUST have a competed Prom Sign Off form in order to purchase tickets. The forms may be obtained from Mrs. Saucier in E100.
Mrs. Saucier
We would like to encourage all testers to bring a sack lunch and some reading material for after the test. If you need to purchase a lunch from the cafeteria, you will be given the opportunity to do so. We want to wish all testers the best of luck, get a good night's rest, eat a good breakfast and come prepared to blow the doors off the ELA 1 test.
Mr. Drake
The Varsity tennis district tournament took place at Clear Brook last Thursday and Friday. The whole team fought hard, but there was 2 outstanding performances from your Creek wildcats…….Alejandra Lopez was your girls singles district champion.  Carter Crookston and Michael Raji were your boys doubles district champions. All 3 players were dominate throughout the whole tournament and will advance to Regionals at Deer Park April 18th.
Senior girls doubles team of Britney Fang and Toni Tacorda put up a valiant, hard fought effort just falling short of regionals with a 3rd place finish. Good luck at regionals!
Derick Geise
Seniors:  Strawbridge Studios will be here this Wednesday morning, April 11 7:30 – 11:30 to take Cap and Gown Pictures.  This will be the last opportunity to have these photos taken.  You must go by C100 and see Ms. Guys today to sign up for an appointment time and to get a payment envelope.  All pictures must be paid for in advance.
Ms. Guys
On last Wednesday and Thursday, the Clear Creek HS Choirs competed in the annual UIL Concert & Sight Reading Contest in Dickinson. Our choirs once again shone brightly and were awarded high scores and accolades from the judges.
Our Non-varsity men's choir Concordia was awarded Division 1 Superior ratings in concert and Division II Excellent ratings in sight reading, earning them a UIL Plaque.
Our Non-varsity freshmen women's choir Bel Canto, our non-varsity women's choir Advanced Women's Chorale, and our varsity mixed choir Symphonic Chorale were all awarded Division 1 Superior ratings in both concert and sight reading, earning all three of them a UIL Sweepstakes Trophy.
Mr. Stultz and I are thrilled at these results, and this year's choirs have secured their spots in Creek Choir's legacy of UIL excellence of receiving Superior ratings at UIL Contest every year since 1971.
Recordings of the choirs' UIL performances are on the shared staff server in the choir folder. Feel free to take a listen.
If you're interested in reading some of the judges' comments about our Creek kids, keep reading:
2nd period Concordia (mostly freshmen non-varsity Men):
"Lovely tone. Talented singers in this group. Nice choral sound…Nice energetic singing. Good teaching."
"You have a beautiful, warm resonant tone quality. Good programming by your director. Good precision and feel of the musical style. Delightful."
3rd period Bel Canto (freshmen non-varsity women):
"You have a beautiful, resonant, rich tone quality. Perfectly formed pure vowel across the choir allowed your intonation to be flawless. You sing with such enthusiasm and sensitivity at the same time."
"Wow, you are a very talented group. Your musicianship really shows. Excellent phrasing, nice dynamic contrast. Very musical."
4th period Advanced Women's Chorale (non-varsity women):
"Very talented singers. Great choral sound. You are quite musical. Love this song, and you do it quite well. Good program."
"You have a lovely, rich tonal quality. This was such a fabulous display of talent, musicianship, hard work, and detailed preparation. You are an outstanding ensemble and have been taught by a fabulous director [Mr. Stultz]. Congratulations!"
6th period Symphonic Chorale (varsity mixed):
"WOW. Outstanding! Loved your performance! Beautiful shaping of phrases, choir! Stunning unison singing. Balance is carefully crafted across the ensemble. Lovely lilt – effortless, beautiful! Exceptional ensemble! Such refinement, finesse, and nuance not heard in high school choirs."
"Wow – what talent in this choir. You sing this literature with such mature musicianship! Thank you for the stellar phrasing and articulation and the delicate phrase endings. Ah!!!"
"Beautiful! You make it sound easy! I'm sitting here thinking about how long since I heard the first Clear Creek Choir – over forty years ago. It was good then, and even better now. You should be proud to be a part of such a long tradition of excellence! Students, I hope you realize how 'out of the norm' you are. Most university students will not perform such sophisticated literature. You are most fortunate! Congratulations!"
Thanks for your continued support!
Mr. Park and Mr. Stultz