District physicals available to students April 21 @ Falls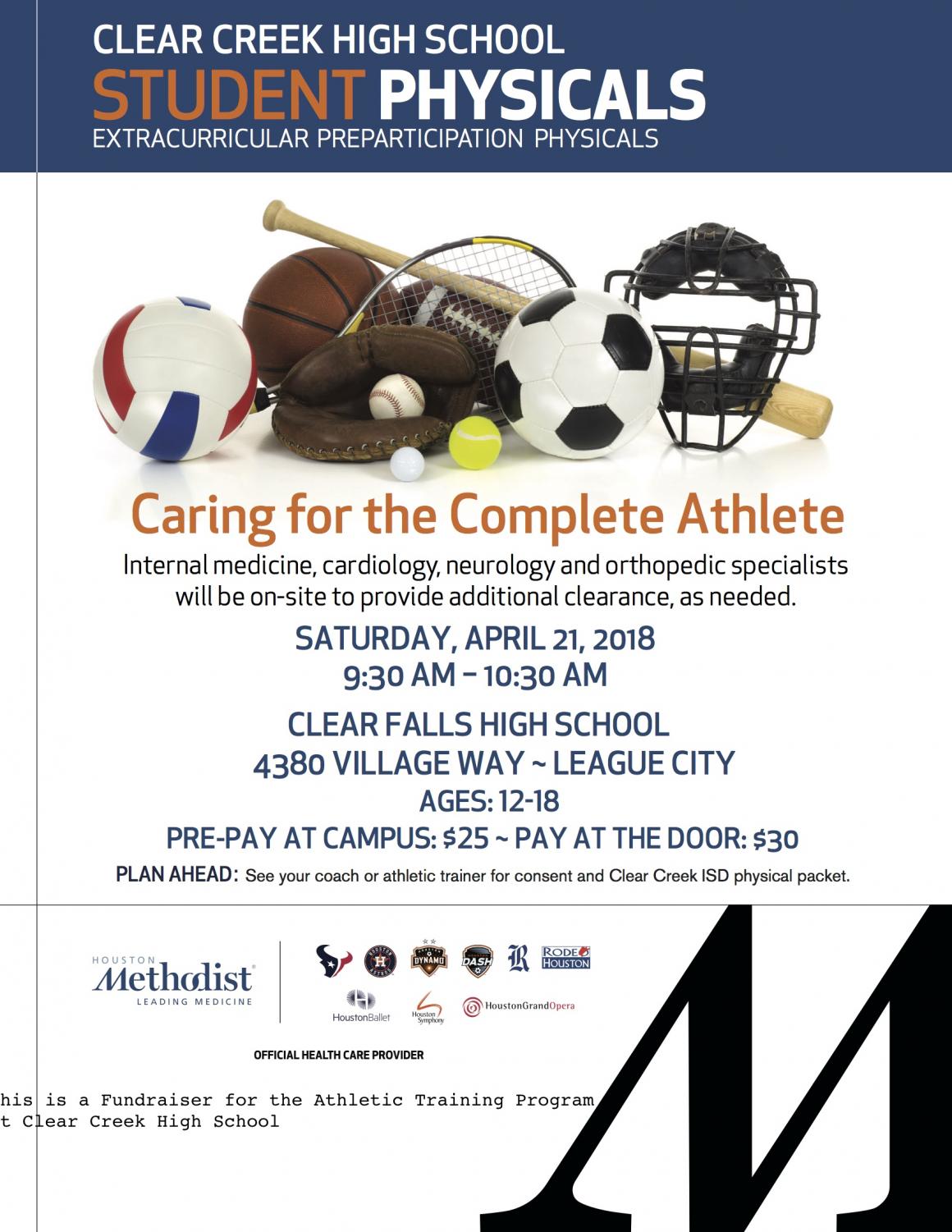 Pre-Participation Physicals will be held on Saturday, April 21, 2018 from 9:30a-10:30a at Clear Falls High School, 4380 Village Way, League City. 

.  

This is a great opportunity to get a physical completed before summer. All students will need a new physical examination after April 1st 2018 in order to try-out or participate in athletics or fine arts and be in the athletic period.
Houston Methodist will be providing the physicians for this event and will have Internal Medicine, Cardiology, Neurology, and Orthopedic Specialists on-site should a student need additional clearance at no additional cost. 
This is a fundraiser for the Athletic Training Program to help offset cost of future modalities and equipment for the treatment of our athletes. 
In order to attend physicals on Saturday, April 21st, the student must have turned in the following BY Friday, April 20th to the athletic trainers on campus.
Payment to Athletic Trainer ($25 cash or check-made payable to Clear Creek High School)

Houston Methodist Consent to Treat Form signed by Parent/Guardian (see links below)

A completed physical form with appropriate signatures. Please remind your students that forms should be filled out in Blue or Black Pen and NOT Pencil, Purple or Pink, etc. (see links below)

The physical form MUST be filled out with appropriate signatures prior to being evaluated by the physician
If a student decides to pay at the door, they will be charged $30, instead of $25! Also, should an athlete no-show at physicals, their payment will be considered a donation to the athletic training program as this is our fundraiser and no refunds will be given. 
Please contact Ms. Crandell or Ms. Salinas should you have any questions. Thank you in advance for your time and cooperation in an effort to have our athletes cleared for participation for the 2018-2019 school year.
Thank you!

 PDFs of the forms below MUST BE FILLED OUT IN BLACK INK. Return the forms with your $25 fee.