Wildcat Web News 10.1.18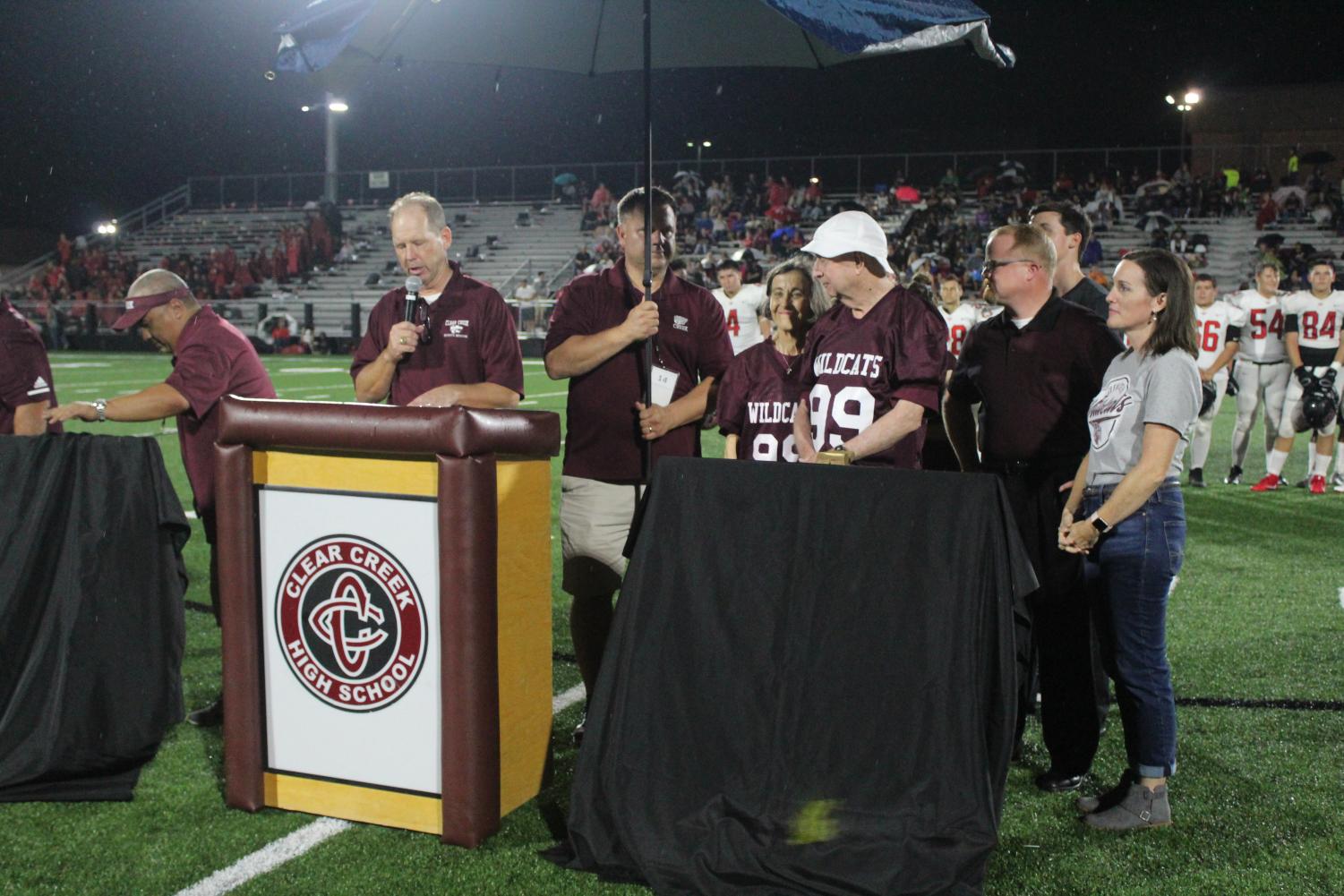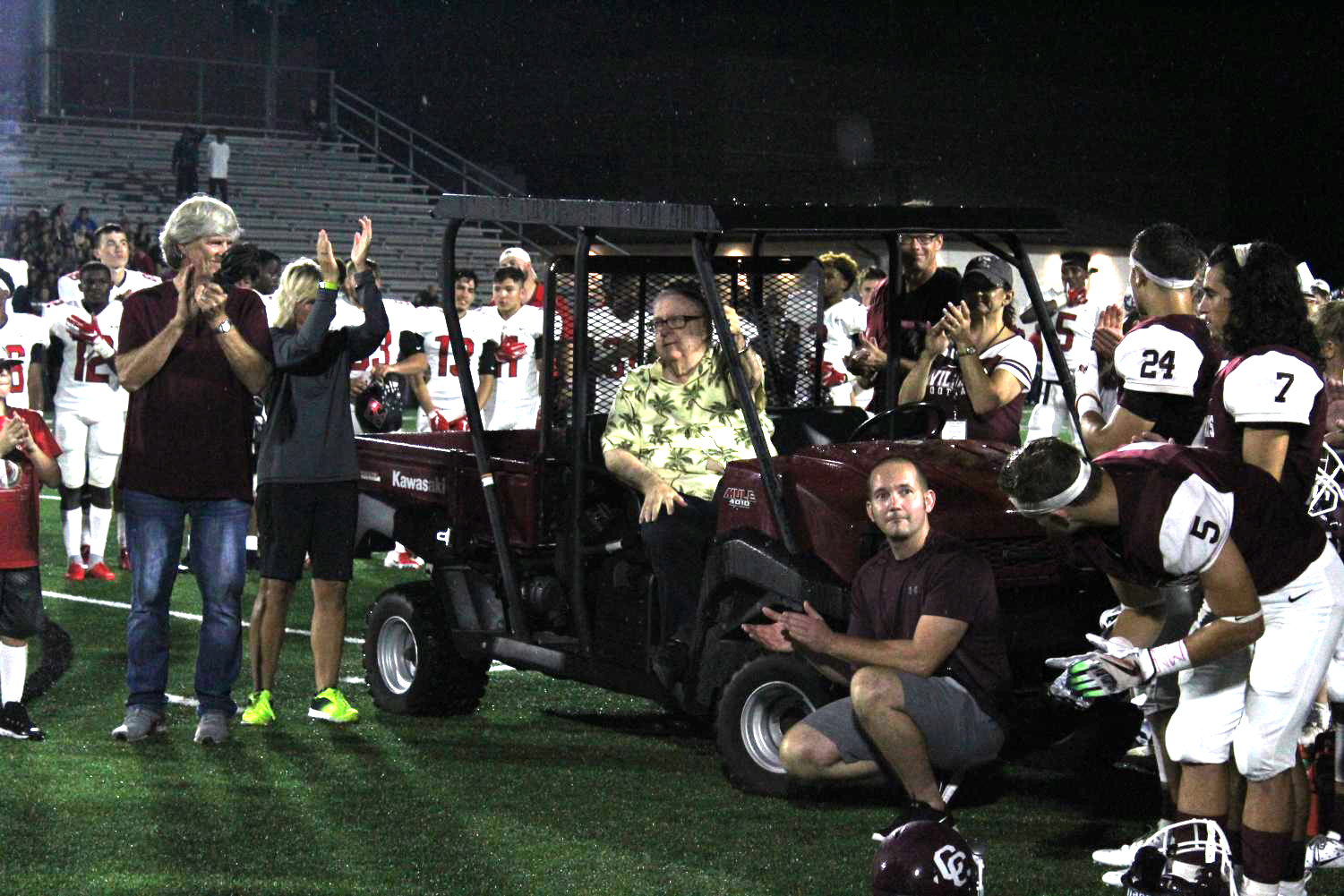 Photos by Ryan Castillo
Photos of James Glenn's Jersey Retirement
Top photo:Current Principal Jamey Majewski
Bottom photo: James Glenn's Principal Ralph Parr
10.01.18
DECA ANNOUNCEMENT
Attention all students interested in Marketing and Entrepreneurship. Creek DECA is now accepting applications for the 2018-19 school year. Compete and advance through district and state competition for a chance at trip to Disneyworld. Applications to join DECA are now available just outside room D125 and are due by October 12th. Stop by and get yours today!
Shawn Mosley, MBA
Attention sophomores and juniors. The LAST PSAT prep course will be held this Saturday. To register, bring a $65 check made out to C200 as soon as possible. If too few students register, it may be cancelled, so don't wait till the end of the week to sign up.
Ken Fontenot
On Friday the boys cross country team traveled to Sylvan Beach Park for the LaPorte Invitational.  Finishing 5th overall in the varsity division was Preston Porter.  Other top finishers in the varsity division included Mason Field, Lars McLeod, Luis Salazar, and Todd Hoover.
AJ Smith and Jacob Tuminarro both had top 20 finishes for the JV team and Chase Sowell, Ahmed Elkhalili, and Espen Ekre all had top 20 finishes for the freshmen boys.
Great Job Wildcats.
Coach McNamara
Students please continue to have your cars moved from the band parking lot by 2:45.
Mrs. Baca
Girls Varsity Cross Country Team competed at the State Preview Meet in Round Rock this past Saturday and had some great finishes!!!
Top finishers for the Varsity included, Allie Cummings taking 17th Place overall out of a field of 400 runners! Other Scorers included Rachel Passintino, Olivia Lueking, Kayla Moody, and Amber Farrar that allowed your Varsity Girls to finish 12th overall as a Team out of a huge field of 47 Teams!!!
JV Cross Country Teams competed at the LaPorte Invitational Cross Country Meet this past Friday.
Top finishers for the Junior Varsity included, Ayo Manns Winning the Meet taking 1st Place overall and Tiffany Dimarco taking 16th Place out of a field of 150 Runners.
Congratulations to the Lady Wildcats
Coach Zepeda
This Friday 10/5 we will have a very special event for Clear Creek Volleyball when we will host a 10 year reunion for our 2008 State Semifinalists team.  I've got several of the former coaches, administration, trainers and players coming back for this including some traveling in from out of state.  Several of these players are now married, engaged, have kids of their own and are all doing great things in the real world.  If you were here back then and knew these kids (who are now obviously grown women) it would be awesome for you to stop by on Friday and say hello to them.  We will be honoring the team immediately after the JV match at roughly 5:15 in Carlisle Fieldhouse.
Attached you can see the picture of that team and here is a link to our highlight video from that season:
https://app.krossover.com/g/z1s3