Junior Chad Lindberg makes League City proud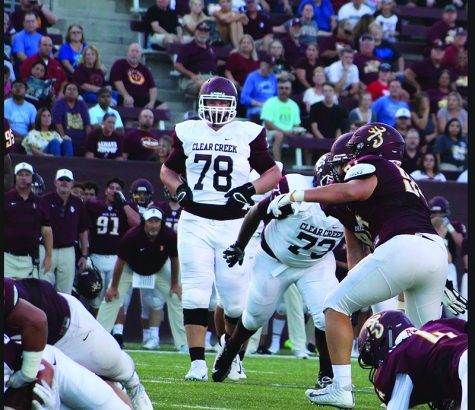 Photo by Erik Soto
Chad Lindberg, a junior at Clear Creek, is considered one of the most prestigious athletes the school has ever known. Between his height and athletic abilities, number 78 cannot be overlooked. Lindberg began receiving offers at the beginning of his sophomore year and they are continuously rolling in. From coast to coast, colleges everywhere want this six and a half feet tall, 306lb, offensive tackle, football star to attend their school.
Not only is Lindberg practically famous in the League City community, he is well known to football enthusiasts all over the nation. He is ranked the eighth offensive tackle in the nation for the class of 2020, 81 top football recruit in the nation for the class of 2020 and tenth top football recruit in Texas for the class of 2020. He has gotten offers from 35 schools including LSU, Texas A&M, UT, Georgia, Alabama, Arkansas and Stanford.
All of these accomplishments did not come easily, hard work and dedication was seen within Lindberg's success. Lindberg has a daily routine that keeps him in shape for his football career. Every morning, he drinks two glasses of milk, eats three eggs, bacon and sausage. He continues his day by lifting weights, practicing drills and spending as much time possible on the football field. He knows it is important to drink as much water as he can throughout the day to keep him hydrated. During off season, he is a member of the school's track and field team where he is nationally ranked for shotput. Even after all of his accomplishments, he believes he should never become complacent with his abilities and never stops working to achieve his dreams.
"I work to be the best I can be at everything I do," Lindberg said.
Not only is Lindberg talented at his sport, he maintains straight A's in challenging classes including AP Biology, PreAP Pre-Calculus, AP English III, AP U.S. History and AP Capstone. He weekly tutors many students in all classes spanning from English to Chemistry. Most teachers would say that Chad is the definition of a "star student."
"Chad is always the first person to offer help when someone needs it. He will always take time out of his day to help me with my classes. He has been someone who's helped me since freshman year," Gaby Umana, junior at Clear Creek, said.
Lindberg, along with many other organizations, is very involves in his church, Bay Harbour United Methodist Church. He is active in the youth program and never says no to helping out with anything they ask of him. He annually attends UMARMY, a local mission trip that puts all their efforts into helping repair or rebuild houses of those who cannot afford to do so themselves. He is also a part of an organization in the church where a group of volunteers create homes out of shipping containers for people in our community who cannot afford regular homes.
"Witnessing Chad's desire to grow in his faith in Jesus is what empowers him to be a leader both on and off the field. He not only helps lead in the church and serve those around him, but also applies that same kind of servant-leadership in every aspect of life including with his teammates and classmates."  Ashley Pendergrass, Lindberg's youth minister, said.
Chad Lindberg is the complete package for colleges with all his athletic abilities, intelligence and volunteer work. Even though he has what seems like an unlimited amount of offers, Chad has not chosen a college and will not share which ones he is most considering. He is waiting until he is positive on the correct choice in colleges to share any thoughts. The anticipation will continue until he makes his decision. Chad Lindberg is an honorable athlete, scholar and a friend to all. Clear Creek High School is proud to call him their student.