Wildcat Web News 11.12.18
11.12.18

"Generation Texas Week starts today and reminds you that now is the time to apply for college admissions and financial aid. Don't let the complicated processes of applying to college and financial aid get in the way of your education. ApplyTexas.org makes it easy to apply to college and the FAFSA (Free Application for Federal Student Aid) makes financial aid a breeze. College is the best investment you will ever make in yourself. No matter who you are, you can find your way to pay. Your future is worth it."
"Attention all faculty, staff and students.  Tuesday is College Spirit Day!  All Wildcats are encouraged to wear a college or military branch shirt to school and show off your spirit.  Help us celebrate Generation Texas Week by showing your college and military pride!"
Kandy Gailey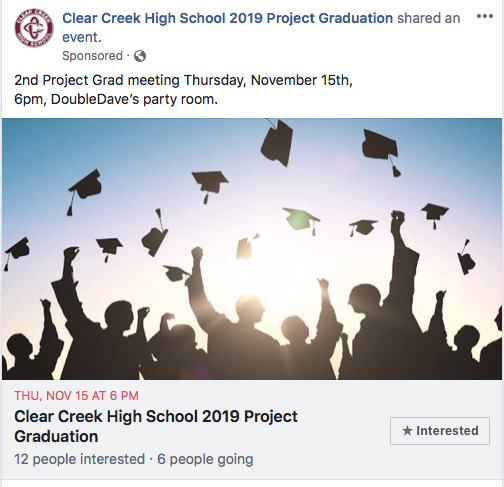 Debate Results from the Clear Brook Tournament:
Sophomore  Hayden Rinehart was a semi-finalist in Informative Speaking.
Seniors Alejandro Sanchez and Santana Shah were semi-finalists in Domestic Extemp.
Juniors Aahil Virani and Jordan Pruitt are your tournament champions in Duet Acting. (8 state points)
Sophomore Meghan Lindquist places 2nd in Prose Interpretation.
Meghan Lindquist also places 2nd in Dramatic Interpretation. (4 state points)
Meghan Lindquist is tournament champion in Humorous Interpretation. (6 state points)
Sophomore Emma Tyler was a quarter-finalist in LD Debate. (3 state points)
Coach Darby
Interested in dancing and performing on a competitive performing arts team? The Color Guard will be having audition clinics Tuesday, Wednesday, and Thursday of this week from 5:30-8:30 in Gym 3. No experience is needed. Come find your family here on campus and shine as a performer! Join Creek Guard!
Thanks!
H. Wargo
Our Freshman Girls Basketball Team won the Championship in the CCISD tournament this weekend, congratulations on your hard work ladies!
Coach Odom
The Boys Soccer team will be having tryouts on November 26, 27 and 28 after school 2:30-4:00 on the grass and turf fields.
All players must have a physical on file before tryouts. See Coach Cobb in F112 for questions.
Coach Cobb