Students given Dell laptops to replace Latitude tablets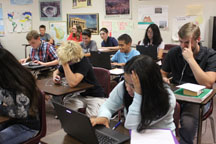 Emily Ruthven , Around Creek Editor
September 30, 2015
This year, every student at Creek received their own Dell laptop, replacing the Dell Latitude tablets that were originally distributed in January of 2014.  The Creek campus has distributed approximately 2,200 laptops.
The new laptops are faster, slimmer, more durable, more user friendly and are less problematic than the tablets were.
"We're having very few hardware issues and the main [issue] we're having right now is with the Microsoft accounts, which we have instructions for. If the students are having trouble with them, then we have the staff here to help them reconnect," said Mrs. Fuentes.
A major benefit to having the laptops is that now all students have access to a keyboard, with is vital to efficiently typing things such as essays and lab reports.
"Pretty soon we'll have no textbooks; it will all be online. [Eventually], everything is going to be digital. So our goal is to help [students] learn from the technology," said Fuentes.
Overall, most of Creek's students are happy with the laptops. They are "easier to navigate" and "more fit to consumer needs," commented Robert Gonzales, a senior.
The original reason for issuing the tablets instead of laptops last year was to increase the mobility of teachers, who are often stuck behind a desk when demonstrating something online for their students. The thought with the tablets was that teacher would be able to eliminate this problem with the ability to move about their classroom during lectures or demonstrations, therefore becoming more engaged with their students and consequently elevating the success of the students' learning. While this may have been true in theory, many teachers were unable to achieve this efficiently. The tablets were sometimes not compatible with certain software, projects, or other outlets of technology that help made the connection from teacher to student.
"Technology is great when it is working. When it is not working, it can add a lot of stress," said Mrs. Fuentes.
Once it was decided that the district would be switching to dell laptops, CCISD sent most of the tablets back to Dell, where they were refurbished. The district kept approximately 10,000 tablets, which are used as classroom sets in every elementary school across the district. Sixth and seventh graders have their own tablet to take home every day and eighth to twelfth grade students have their own Dell laptop to keep for the school year.
With new laptops came new software programs and learning platforms. Teachers now have the ability to upload assignments, notes and Power Points onto ItsLearning, the district's new outlet for classes, replacing OneNote. Students can download these documents at school and at home, which helps them complete missed assignments more easily. Teachers can also upload quizzes onto ItsLearning so students take them at home or in class. Along with ItsLearning, students can access Skyward on their laptops. Skyward is taking the place of CCISD4me; it is the place where students, and their parents, can check their grades daily. Both ItsLearning and Skyward can be accessed through LinkEd, CCISD's main hub for students and parents. The laptops also allow students to have easier access to their online textbooks, where they can take notes and complete online assignments.
For any students having difficulties with their laptop, Mrs. Fuentes, Mr.Pott, Mrs. Galvan and Mrs. Pavish, who is the learning technology coach and the teacher-student liaison for technology at Creek, are in the library tech office. Mrs. Fuentes is there from 7:00 to 3:30 every day of the week and is "anxious to help any student that needs it."