IACHR denies Mexico's report of missing students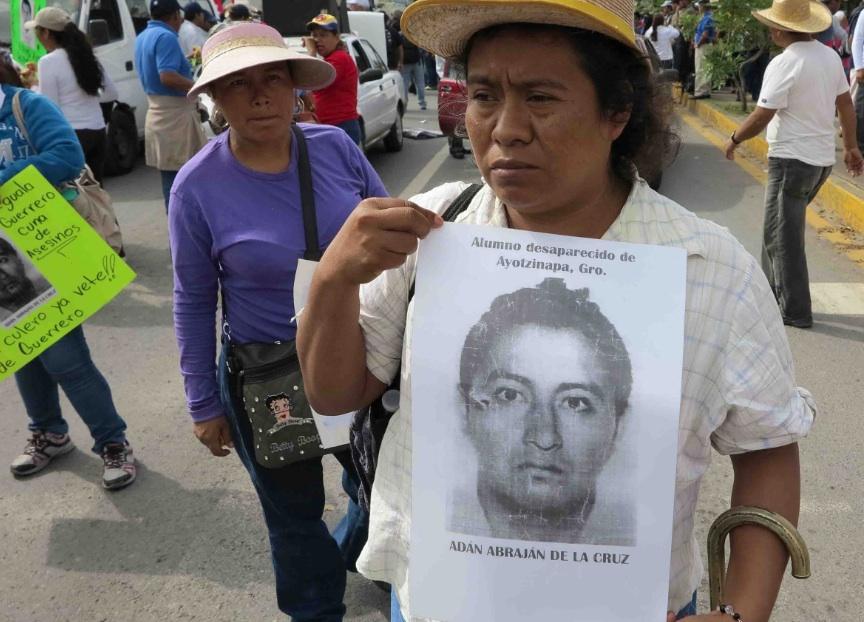 A protester holds up a poster with a photo of one of the 43 missing students who disappeared nearly a month ago in Iguala, Mexico, on Oct. 22, 2014. (Tim Johnson/McClatchy/MCT)
In late 2014, 43 students went missing from the Ayotzinapa Rural Teachers' College in Iguala, Guerrero of Mexico. Official reports said that the students planned on rallying to protest at a conference led by the mayor of Iguala's wife, and were met by police force under orders of the corrupt mayor. Six people were killed, twenty-four were wounded, and forty-three are still missing. What happened after the confrontation between the local police and the students is still unconfirmed, however the Mexican government says that the missing students were handed to a local drug cartel to have their bodies incinerated in the neighboring town of Cocula. However, recent reports done by the Inter-American Commission on Human Rights (IACHR) have denied this account of the tragic incidents. According to the IACHR, and the family members of the students, the story doesn't add up.
"There is no evidence indicating the presence of a fire the size [needed] for the cremation of even one body." Jose Torero, from University of Queensland in Australia, said.
Because Mexico as a whole is wounded by these attacks, they have welcomed the IACHR into their country to further investigate. Mexican Foreign Minister Jose Antonio Meade emphasized the importance of cooperation among nations to find out what happened after the devastating confrontation, and the vitality of finding the students who have been missing for almost a year. The IACHR created a panel of human rights experts from a combination of Chile, Columbia, Guatemala, and Spain: Carlos Berstain, Angela Buitrago, Alejandro Valencia, Francisco Cox, and Claudia Paz y Paz.
"At the end of last year Mexico raised the importance of that cooperation, we held meetings with the IACHR and it was aware of those who were made a part of that panel of experts," Meade said.
Many of the relatives believe that the Mexican federal government also had a hand in the disappearances, although they have ardently denied any involvement. Some believe that the federal forces are trying to quiet the citizens' cries of political corruption by allowing the IACHR to investigate the missing persons case. A saying that has become common in Mexico since the incident is "El estado fue," which translates to "It was the state." The Attorney General Jesus Murillo's response to the phrase became a trending topic on Twitter, "Ya me cansé." or, "Enough, I'm tired."
"I'm tired of my people being mistreated, of my people being kidnapped, of my people being robbed, of my people not getting the education they deserve. I'm tired of watching people be disappeared and it being treated as if it's no big deal. I'm tired of watching those in power use that power to abuse the people they're supposed to protect. I'm tired. We're all tired." Gilberto Trujillo, a former citizen of Oaxaca, Mexico commenting on the response, said.
The IACHR has also shed some light on what could've happened on this unfavorable day. They agree that the students were met by police force but they do not believe that the missing students were taken by the drug cartel and incinerated. According to the report, the witnesses who provided the information about the confrontation had completely different testimonies. These testimonies consisted of different sites and different numbers of deaths during the police force confrontation. No solid evidence has been found, and therefore the IACHR ruled the reports incorrect due to faulty witness