Obama renames North America's tallest mountain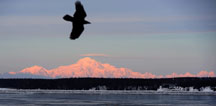 The United States' tallest mountain was officially renamed from McKinley to Denali by President Obama this September. Located in Alaska, this massive mountain towers at 20,310 feet, making it the tallest in North America.
The newly chosen name of the mountain is a nod to the region's native population. The Athabaskans have referred to the peak by the Koyukon word denali, which means "high" or "tall" for centuries. It was announced on August 30 by the Barack Obama administration that the formerly named McKinley would be returning to its native roots.
Denali, formerly Mt. McKinley, was named for  the 25th U.S. President William McKinley in 1896. It was a bid for political support for the then-presidential candidate, who was then elected the next year. In 1975, Alaska changed the name of the mountain back to Denali locally, but Ohio congressman Ralph Regula blocked the same from happening on a federal level.
40 years later, President Obama is finally recognizing Denali's name federally. However, this change is not willingly accepted everywhere, especially in President McKinley's home state of Ohio. Lawmakers there are heavily protesting the renaming as an offense to McKinley's assassination in 1901.
"There is a reason President McKinley's name has served atop the highest peak in North America for more than 100 years, and that is because it is a testament to his great legacy," Boehner said, courtesy of CNN.
The argument between Ohio and Alaska has roots far older than 2015, however. The political leaders of Alaska have pushed for Denali's official renaming for years and Ohio has pushed right back. For the mountain to go by either name means that one cultural or historical event must be soundly ignored.
"For generations Alaskans have known this majestic mountain as 'the great one'. Today we're honored to be able to officially recognize the mountain as Denali." U.S. Senator Lisa Murkowski said, courtesy of CNN.
Lawmakers in Ohio, however, are using the fact that this renaming has been stuck in Congress for years to protest the act. In order to get around that, Secretary Sally Jewell referred to a 1947 law that states that interior secretaries can authorize name changes if a reasonable time limit for the congressional board has passed. Ohioans reacted to the action negatively.
"President Obama has decided to ignore an act of Congress in unilaterally renaming Mount McKinley in order to promote his job-killing war on energy. This political stunt is insulting to all Ohioans." Representative Bob Gibbs tweeted.
Secretary Jewell commented back that President McKinley had never even set foot in Alaska. The mountain was initially named by a man from Seattle, William Dickey, who found the mountain in 1896 while gold prospecting.
"We named our great peak Mount McKinley, after William McKinley of Ohio, who had been nominated for the presidency, and that fact was the first news we received on our way out of that wonderful wilderness," he wrote to the New York Sun, courtesy of USA TODAY.
While native Alaskans want the mountain to be dubbed with its native name, Ohioans want to preserve McKinley's legacy. The 25th President was shot twice by an anarchist, Leon Czolgosz, and died on September 13, 1901 from a rotting bullet wound through the abdomen. In honor of McKinley and protest of the renaming, Ohio Governor John Kasich told the story of a red carnation symbolizing William McKinley.
"As POTUS [President of the United States] once again oversteps his bounds, Ohio knows every carnation is a monument to our own William McKinley."