Ed Sheeran performs Houston concert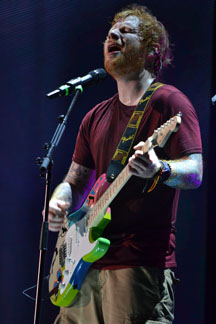 Alyssa Lobue, Teen Interest Editor
October 1, 2015
The BBVA Compass Stadium hosted Ed Sheeran's Multiply Tour on September 3. The concert started roughly around 7:00 PM when singer-songwriter Jamie Lawson came onstage as the opening act. With only his acoustic guitar and microphone, he performed his first ever U.S show. Lawson played one of his debut singles, Wasn't Expecting That, which was most known to the crowd. The UK native was the first to be signed under Ed Sheeran's Gingerbread Man Records label, with his first official album being released on October 9 of this year.
Following Lawson's performance, Christina Perri was brought onstage and within seconds began to sing Arms, featured from the release of her second acclaimed album, Head or Heart. She performed many other popular songs such as Jar of Hearts, A Thousand Years, Run, and Burning Gold.
During some songs, she played the piano, while she shook a tambourine on others. While performing, she had a massive amount of energy and danced the entire time, exciting the crowd as time for Ed's performance came closer.
After Christina's departure, the crowd waited several minutes before the lights slowly dimmed. The screens behind the stage came to life and showed a short montage of photos, videos, and older performances of Ed, from the year he was born until the present year came onscreen and Sheeran walked onstage. As he sang his first song, I'm A Mess, graphics came onscreen showing abstract art, which faded and changed every few seconds.
Ed soon launched to several of his most popular hits, from his most-recent Multiply album as well as his older Plus album. Ed Sheeran, truly a one-man band. He plays all of his songs 100% live, with no backing track or background singers. He was on stage with only his guitar, his microphone and his looping station, on which he "builds" his songs. For example, he will play a beat on his guitar, and then his loop pedal will record what he played, and play the beat back over and over again. He does the same for background vocals, so it sounds as if there are many people on stage or he has another track playing, although Ed performs completely live every time.
"I got my first complaint at a show the other day," he teased from stage at the beginning of the show. "A couple complained that I wasn't playing live. So I'd like to introduce you to my loop station."
Sheeran's energy while on-stage was undeniable, and within minutes he was soaked with sweat from the humid Houston air. Even when he played slower songs, you can tell he poured his everything into them.
Although Ed played many of his own songs, one of the most memorable moments was when he performed Dark Times, a song he co-wrote with The Weeknd. He also covered I Was Made to Love Her by Stevie Wonder that he prepared as a TV tribute to him.
In his encore, Sheeran came back to the stage and launched into You Need Me, I Don't Need You, a fast-paced rap song from his Plus album. He then went to Sing, his lead single off of Multiply. He encouraged the audience to sing the