Astros have first success in ten years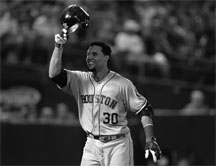 The Houston Astros have so far enjoyed a successful 2015 season and now have a chance to go into the postseason for the first time since 2005. Since the start of the season, the team, led by manager A.J. Hinch, seemed to show signs of success in their victories. Initially starting off slow, the team took over first place in the American League West on April 19 and stayed there until the All-Star Break in mid-July when the Angels took over. However, on July 29, the Astros retook their first place spot.
On July 30, the team picked up Mike Fiers and Carlos Gomez from the Milwaukee Brewers. The two proved to be a rightful pick as Fiers threw the eleventh no-hitter in Astros history on August 21 in their game against the Dodgers and threw 134 pitches. Gomez has become one of the Astro's most prominent hitters and has hit safely in 13 of his last 14 games. He has had several multi-hit games. Gomez has contributed three home runs and nine RBI's. Gomez has also struck out only five times. The new hitter for the team has helped ensure much of the Astros recent victories.
Now, only a few games remain to decide whether the team gets even farther and into postseason.
We've been in a good place all year," Jed Lowrie said. "We do have a lot of confidence in ourselves. We're pretty good at eliminating distractions and that'll be doubly important during the last month."
That last month, October, will be when the Astros go to postseason or enjoy the success they had this year. Manager A.J. Hinch sat inside the home dugout and tried explaining how "everything clicked" at once when no one expected it to.
   The team currently has a one and a half game lead in the American League West over the surging Texas Rangers and a 3.39 ERA. They've also got one of most prominent young players: Carlos Correa.
   Carlos Correa has had grand success this year. On June 8, he was promoted to the major leagues and on June 9, Correa stole his first career base and hit his first MLB home run off of Zach Duke. By doing this, he became the second youngest player to do so in a century, trailing Rickey Henderson by only 21 days. Correa established a new franchise record for most hits during his first ten games by batting 14. He would break the franchise record for most hits through 15 career games with 20.
He would later set a record for most doubles during his first 20 games by batting nine. Five home runs were hit during this timeframe for a total of 14 extra-base hits, which tied for the second most since the 1993 MLB expansion. He would later win the American League's Rookie of the Month award after breaking many other records. By his 42nd game he was leading the American League in home runs by shortstops. This game was also Correa's seventh with at least three hits, a record for rookies in this league. On August 1, 2015, Correa recorded his first multi-homer game, also setting a franchise record by hitting 12 home runs in his first 46 games. By his 50th game he had batted more home runs in that amount of games than any other shortstop in history, recording four more than the previous record-holder. Correa has been one of many people who have helped the Astros in their success.
The Astros have been at .500 or above every month this season with the exception of September, currently. While its hard to say whether the Astros will get to postseason or not, one thing that cannot be argued is that the team has had more success then they've ever had in ten years.