County clerk Davis refuses to issue marriage licenses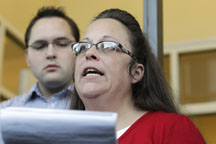 Issac Villarreal, Photographer
October 2, 2015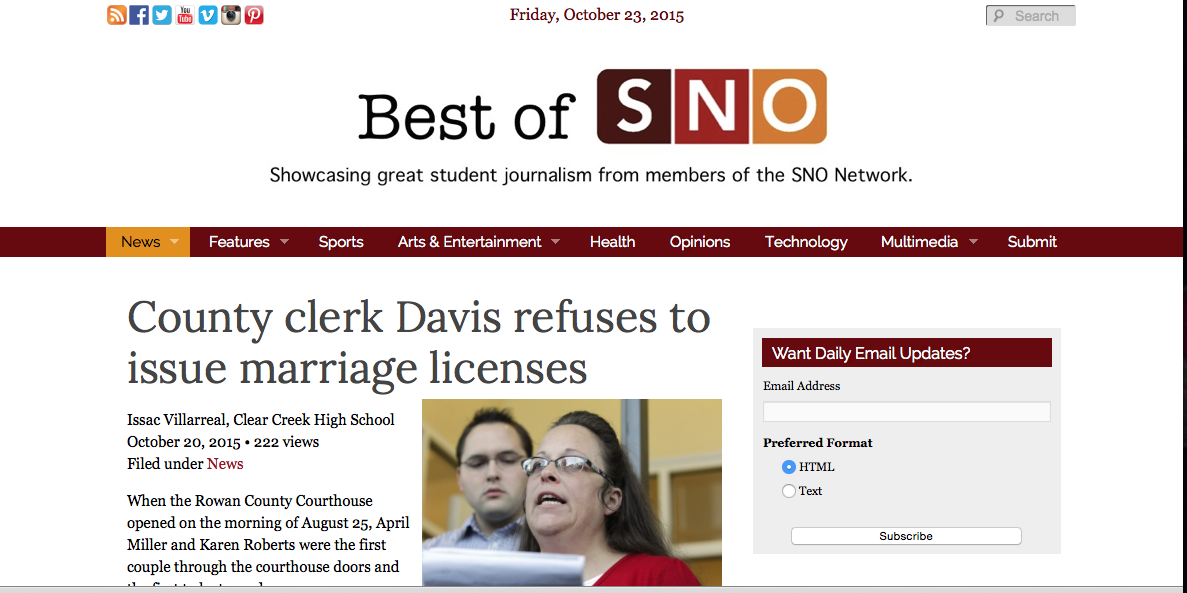 UPDATE:Congratulations to HiLife editor for having his story chosen for the BEST of SNO. We are very proud of him.
When the Rowan County Courthouse opened on the morning of August 25, April Miller and Karen Roberts were the first couple through the courthouse doors and the first to be turned away.
"We weren't surprised," Miller said by phone a couple of hours after. "There wasn't surprise in our voices this morning, there was disappointment."
Miller and Roberts were just one example in a long line of couples hoping to get legally married in Rowan County, yet being repeatedly denied by the county clerk, Kim Davis.
David Ermold and David Moore, who had been previously rejected multiple times in Rowan County, came in next, followed by Tim and Mike Long, who had already changed his name in a civil ceremony but was hoping to finally receive a marriage license. James Yates and William Smith, Jr. were also expecting a marriage license that day, an attempt that marked their fifth try. Every couple was turned away.
Ermold and Moore have previously documented their efforts to secure a license in Rowan County. A video of a July attempt has more than 1,800,000 views on YouTube.
Clerk Kim Davis did not make an appearance at the counter as the first couples streamed in, leaving employees to deny the licenses on her behalf. An employee of the courthouse said Davis was "doing reports." When Davis finally came out, she declared that she was not issuing any licenses because of her faith..
After the issue came to light, the U.S. Supreme Court denied clerk Kim Davis' request for a stay of a federal judge's order for her to issue marriage licenses to all eligible couples, meaning she and her staff must comply or face fines and possible jail time. A stay of proceedings is a ruling by the court in civil and criminal procedure, halting further legal process in a trial. The court can subsequently lift the stay, forcing Davis to issue licenses. However, a stay is sometimes used to postpone proceedings indefinitely.
Davis, who says same-sex marriage conflicts with her Christian beliefs, has been refusing to issue any marriage licenses since the Supreme Court ruled for marriage equality in June. Four couples, two same-sex and two opposite-sex, sued her, and earlier this month U.S. District Judge David Bunning ruled that she must perform all the duties of her job, issuing her an order so she can't turn away couples seeking licenses.
"Plaintiffs do not seek to compel Davis' compliance through incarceration," the court documents stated. "Since Defendant Davis continues to collect compensation from the commonwealth for duties she fails to perform, Plaintiffs urge the Court to impose financial penalties sufficiently serious and increasingly onerous to compel Davis' immediate compliance without further delay."
Meanwhile, a couple that had been turned away from her office when seeking a marriage license is seeking to have her charged with official misconduct. The attorney for Rowan County has referred the case to the state's attorney general and Davis has sued Governor Steve Beshear, accusing him of violating her religious freedom.
Davis was later jailed for denying issuing marriage licenses to gay couples. After five days behind bars, Davis was ordered a release from jail by the judge who locked her up.
U.S. District Judge David Bunning lifted the contempt order but told Davis not to interfere with the granting of licenses by her deputies. Davis was released just before she was to receive jailhouse visits from presidential candidates Mike Huckabee and Ted Cruz. When Davis was thrown in jail, she became a hero among religious conservatives for the boldest act of resistance by a public official to the U.S. Supreme Court ruling earlier this year that legalized gay marriage across the nation.
Outside the jail where Davis was held, word spread slowly through a crowd of supporters and some said they could not believe the news. Davis, an apostolic Christian, says that "gay marriage is a sin" and that "it would be against my conscience to issue a marriage license to a same-sex couple." Five of the six remaining deputies  at the Rowan County courthouse are now issuing licenses, with the exception of Davis' son.
"The court is therefore satisfied that the Rowan County Clerk's Office is fulfilling its obligation to issue marriage licenses to all legally eligible couples, consistent with the U.S. Supreme Court's holding in Obergefell and this court's Aug. 12, 2015, order," Bunning said. "For these reasons, the court's prior contempt sanction against defendant Davis is hereby lifted."
The American Civil Liberties Union, which represents four couples who sued her, said its goal has been achieved.