Wildcat Web News 10.12.15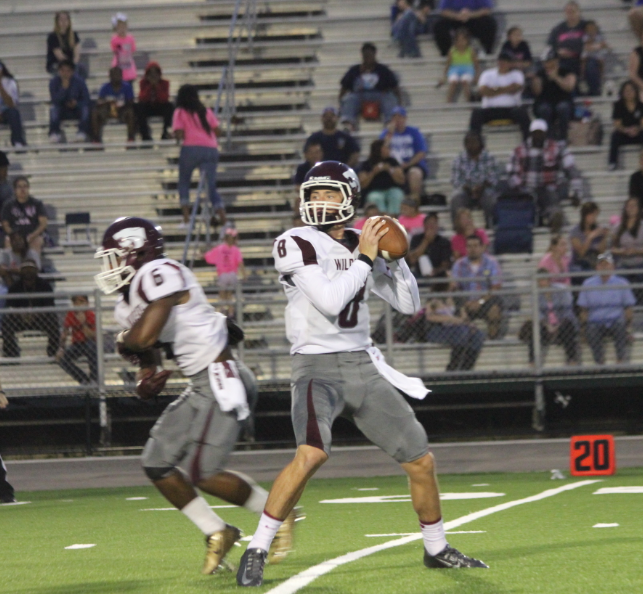 10.12.15
Wednesday, October 14, is a District-wide test day.  Sophomores and other grade levels that registered for the PSAT will take that exam while Juniors will take a Practice ACT.  Freshmen will take a Practice PSAT.
Please remember to bring a scientific or graphing calculator with you on Wednesday as these will not be provided.  Also bring a #2 pencil.  You may bring water and a snack if you like, but these may only be consumed during test breaks.
Thanks,
Elizabeth Updegraff
Last Friday, the choir's Chamber Singers entered the Macy's All-School A Capella Challenge, an online competition coordinated with pop a capella sensation Pentatonix. For this national online competition, schools were challenged to submit their own original a capella rendition of The Jackson 5's "I Want You Back," create a video of their performance that was recorded on school grounds, and submit the video via YouTube. The Chamber Singers have been working since the beginning of the year on getting the best product available and spent two days recording it. CCI Choir Director Melissa Smith helped Mr. Stultz and I immensely by doing all of the filming and editing of the final video.
With all of the high quality entries from across the nation, it's a long shot to win. Bu if we happen to win, we will win $25K for our school and program. We are very proud of the product we have created and think that we have a legitimate shot at being considered. There are some awfully good programs across the nation who have put out some very good videos (just go to YouTube and do a search for "Macy's A Capella Challenge" to see the entries from all three categories: elementary/middle school, high school, and college. There will be three $25K awards given, one per category.), but we feel like our performance is right at the top with many others. Regardless of the final outcome, though, the students and directors had a blast putting this project together, and we will be using the video throughout the year for our own advertising and recruiting purposes.
Take a look at the video, and feel free to show any of your classes as well. As always, thanks for your continued support!
https://www.youtube.com/watch?v=zyonOiQEHUs
James Park
The freshman dark team defeated Brazoswood 49-21 Thursday in Brazoswood. The team scored touchdowns on 7 out of their 8 possessions, and the defense proved to be stalwart for the entire game. 5 different Wildcats reached the end zone, and the place kicker was perfect on extra point opportunities in a true team victory. The team would like to thank all of their dedicated fans for braving the trip and the mosquitoes to cheer them on towards a district title.
Brian Webb
Attention Best Buddies members, if you signed up to be a Peer Buddy, you must complete your interview process. There is a sign up sheet outside of Mrs. Lotf's room, B116. If you can't interview, there is a link to a survey on the Best Buddies Weebly, our Twitter, and posted outside of Lotf's door. Make sure to complete an interview or survey as soon as you can! Our Matching Party is tomorrow at 6pm at Franca's Real Italian Restaurant, on Nasa Parkway. It's $10 per person. Come meet your buddy and start off your friendship!
Best Buddies
ART CLUB MEMBERS! DON'T FORGET THE ART CLUB MEETING TODAY AT 2:40 IN ROOM F108. COME PREPARED TO CREATE SOME AMAZING PUMPKINS!
Brenda Henning