Wildcat Web News 10.20.15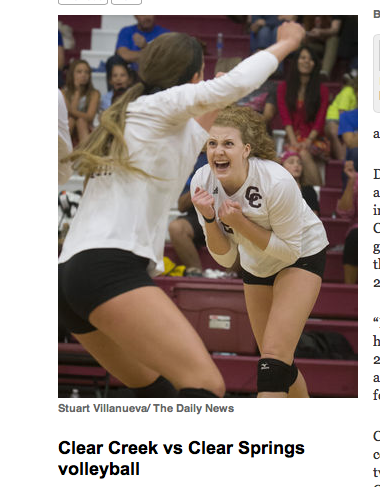 10.20.15
Volleyball UPDATE:
Wildcats WIN!!!!!!!!!!! See the details here http://www.galvnews.com/sports/high_school/free/article_1489be90-b0a9-5b58-bf61-340e492f4c10.html
The Clear Creek varsity football team defeated Friendswood 45-42 Saturday afternoon.  The team is now 7 and 0 on the season and tied for first place in district 24-6A.  The team thanks all the faculty and students for their tremendous support during the game.  Come watch the Wildcats play this Friday night against Clear Springs at 7 PM.
Zach Head
Congratulations go out to our orchestra members who made region orchestra this past Friday. They will perform in the clinic and concert on Nov 20 &21. Students are:
Margareth Freire
Daniel Better
Clark Crookston
Mackenzie Gibbons
Rebecca Trumble
Johnathan Tran
Sunny Wang
Sonum Arora
Jason Chaviers
Ms. Bradshaw
The FFA will be serving Friday Lunch this Friday, Oct 23
John Bigham
It was a great weekend for the speech and debate team with nationals bids and state points towards qualifications.
Senior Sahar Jiwani and Greyson Gilliam downed a quarter-finalists, round but getting to that round was crucial for them, not only did that round give them enough points to finish their state qualification, they got a Tournament of Champions bid. Overall they finished 5th in a pool of 115 teams.
Senior Justyce Yuille placed third in Original Oratory and with the placing is now half way qualled for the state tournament and is now, if I'm not mistaken, the first student from CCISD this year to be qualified for the Tournament of Champions this year.
Senior Catherine Pierce and Sophomore Geena Timmerman finales in Humorous interpretation placing 3rd and 6th respectively. Sophomore Elmar Sadygov was also a semi-finalist in the event.
Sophomores Brandon Griffin and Scott Lindberg were both finalists in Student Congress getting them both closer to their state qual.
Bryan Darby
The Theatre Department invites you to attend its production of "The Good Doctor" by Neil Simon.  This hilarious comedy was a hit on Broadway and features nine stories filled with infectious laughter.  Members of the CCHS Orchestra will be providing live music throughout the play.  "The Good Doctor" performs on Thursday, Friday and Saturday at 7:00 PM in the Clear Creek Intermediate Theater.  Tickets are $5 and can be purchased in advance from the Drama Room or at the door.  Laughter can be the best medicine.
Thanks,
Bradley Hewlett, Theatre Director
Boy's basketball tryouts will be held on October 28-30 at 5:30 A.M. in Carlisle Fieldhouse. You must have a district physical form filled out by a physician by the October 28. We will also be checking you academic status and you must be dressed appropriately for practice (shorts, basketball shoes, no jewelry). If you have any questions you may stop by E-106 and speak with Coach Bryan or D-123 and speak with Coach Bartel.
Wes Bryan
Current Stuco dress-updays
Thursday 10/22 Pro Sports
Friday 10/23 Creek Out
Thurs 10/29 – Tourist Day 10/29 – Beat Dickinson
Friday 10-30 Creek Out
Thurs 11/5 – USA Day  – Beat Lake
Fri 11/6 – Creek Out
Laura Gladney-Lemon
Want to make a difference in people's lives? Then join TAFE (Texas Association of Future Teachers). The first meeting is today after school in Mrs. Radicioni's room, G112. Become a Difference Maker!!
Thank you
Mrs. Radicioni
Join us for Chili's gives back nights for CCHS Cheer Booster Club on Tuesday, November 3. Must present a flyer for booster club to get credit, can print flyer from creekcheer.com or see a cheerleader for a copy of the flier.
Kim Neal