Wildcat Web News 1.11.16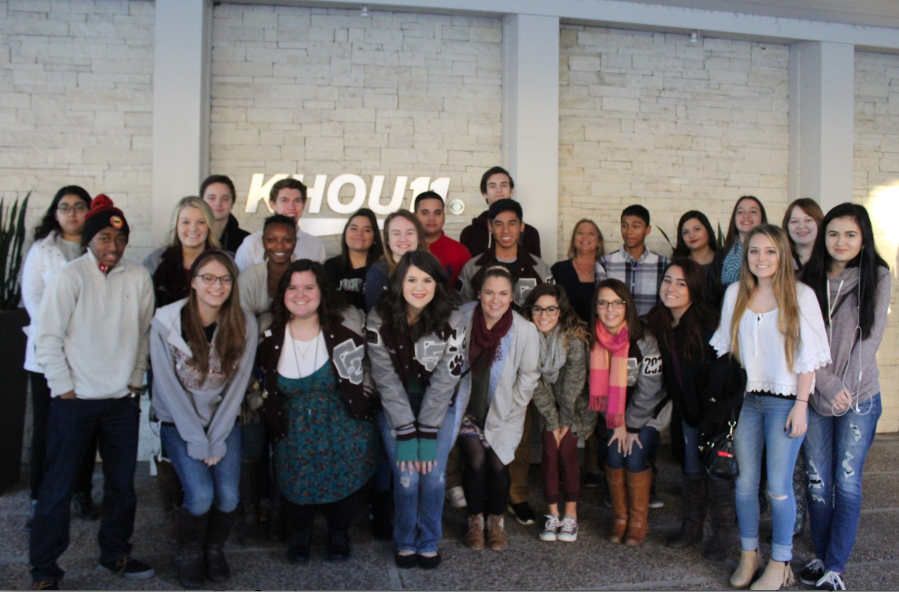 The Yearbook Den staff travelled to KHOU to learn about TV broadcasting
1.11.16
Any Boys interested in running Track there will be a meeting at 2:45 in the Spring Field House on Wednesday. A copy of  your report card needs to be brought to the meeting.
Coach Jordan
Congratulations to Clear Creek HS Band Member, Jason Keyzer, for advancing to the TMEA All-State Band this weekend! Jason will represent Region 17 and Area F at the Texas Music Educators Association Convention in San Antonio this February.
Congrats again to Jason. Thank you for your hard work and musicianship!"
Thank you!
Ogechi Ukazu
The FFA booster club is doing Friday lunch this Friday the 15th.  Please make announcements for us.
Thanks,
John Bigham
Students – If you have submitted a request to change a class, please read carefully.  At this time, changes to student schedules in Skyward is on hold.  It will be back on track soon.  Please be patient.
If your schedule change was approved a new schedule will be sent to you.  If it was declined, a note will be sent to let you know.
Thanks!
Elizabeth Updegraff
This past weekend the Clear Creek Wrestling team competed in the 14th Annual Cy-Fair ISD Invitational. This year over 70 teams were in attendance, making it one of the largest competitions in the state. Senior Rocky Batterson and Sophomore Timmy Thompson both place 4th in their weight classes, each beat tough district and state competitors to claim their medals.  Great job Wildcats!
The wrestlers will wrap up their pre-district season by taking part in the Woodshed Invitational at Brazoswood this Saturday and the Hurricane Classic Jan 22nd-23rd.
Brian Wyman
The Fashion Institute of Design & Merchandising will be visiting the College Center on Thursday, January 14 at 9:15.
Interested students can sign up in Naviance or visit the College Center for more information.
Shannon Herd
The Theatre Department invites you to attend its premiere of InnerSolar by Bradley Hewlett.  This original comedy is a quirky journey through the solar system in which one member of the audience will be selected to decide the order of the scenes.  Original music for one of the scenes was written by student Noah Massey.  InnerSolar performs on Thursday, Friday and Saturday at 7:00 PM in the Clear Creek Intermediate Theater.  Tickets are $5 and can be purchased in advance from the Drama Room or at the door.
Thanks!
Bradley Hewlett, Theatre Director
On Saturday, four choir students competed in the annual TMEA All-State Choir Auditions, the last of four rounds of auditions that started last September. Making an All-State Choir is the highest honor a high school choir student can achieve and is one of the most difficult things for a choir students to do – the competition is fierce and at the absolute highest level.
We are very pleased to announce that two of our students made an All-State Choir, and the other two were both named alternates.
Congratulations go to:
Iris Garcia (senior) – All-State 7th chair Alto 2 placing her into the All-State Women's Choir
Zachary Hoover (sophomore) – All-State 4th chair Bass 1 placing him into the All-State Mixed Choir
Sarah Hart (senior) – 12th chair Soprano 2 (alternate)
Travis Faulknor (freshmen!!!) – 10th chair Tenor 1 (alternate)
Iris and Zach will represent Clear Creek HS by going to San Antonio in February to combine with the other All-State Choir members from across the state to rehearse for four days with their All-State Choir, culminating with a performance for an audience of thousands under the direction of world-renowned guest conductors.
On Saturday, four choir students competed in the annual TMEA All-State Choir auditions at Baytown Sterling High School. Two students were selected outright for the All-State Choirs, and two students were named as alternates. Congratulations to All-State Choir members Iris Garcia and Zachary Hoover as well as to alternates Sarah Hart and Travis Faulknor. Way to go!
James Park