Wildcat Web News 2.1.16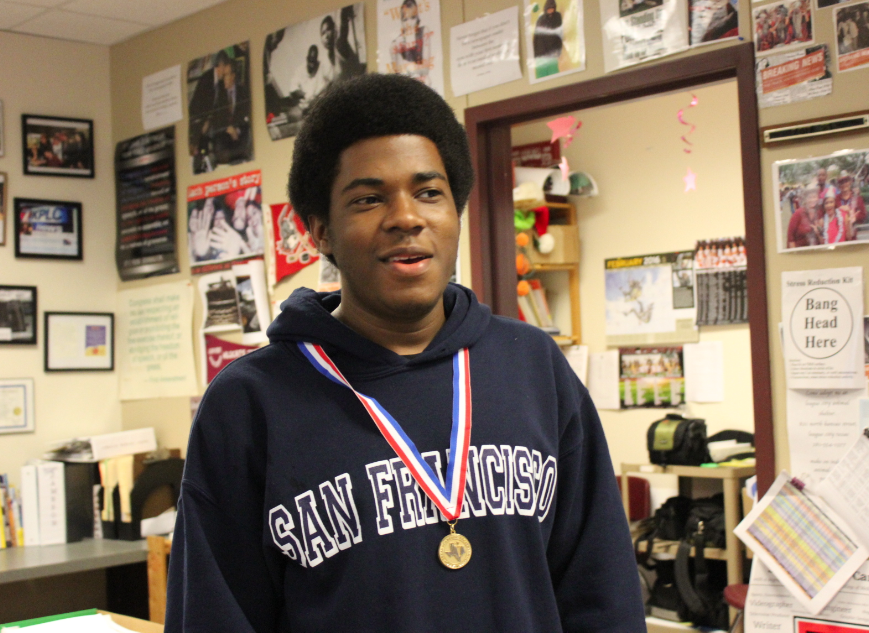 2.01.16
Tuesday night soccer action streamed live (see web address)…
Clear Creek vs Clear Falls
Girls at 5:00 PM
Boys at 7:00 PM
http://mediacast.ccisd.net/tight_url.cfm/URLID/100357
Tuesday, February 2
Attention: If you are a twin, triplet, or even have even more identical or fraternal siblings, the yearbook staff would like to put you in the yearbook. Please come to the yearbook room (D-131) on Wednesday, February 3 at the beginning of 6th period with your siblings to take your photo.
Jan O'Neil
The tennis team participated in the Clear Springs JV Tournament and the Katy Varsity Tournament this weekend. Outstanding results came from the following:
At the Clear Springs JV Tour…
Britney Fang & Toni Tacorda placed 1st place in "A" Girls Doubles
Karolina Pazdrak placed 1st in "A" Girls Singles
Ryan Fanders & Michael Nelson placed 1st in "B" Boys Doubles
Abbie Perry placed 2nd in "A" Girls Singles
Alice Burington placed 1st in "B" Girls Singles

At the Katy Varsity Tournament…
Ford Cunningham & Jessi Nifong placed 1st in "A" Mixed Doubles
Safe Rahman & Adam Moore placed 1st in "B" Boys Doubles Consolation
Garbriel Lopez placed 1st in "B" Boys Singles Consolation
Great job to the tennis team,
Coach Marrie
The Theatre Department invites you to attend a Spaghetti Dinner & Improv Show this Saturday in the Auxiliary Cafeteria. Dinner will be served at 6:00 PM and the show will begin at 6:30 PM. Tickets are $10 and may be purchased in advance from the Drama Room. All proceeds will fund Drama Booster Club scholarships for graduating Seniors.
Thanks!
Bradley Hewlett, Theatre Director
This was a tremendous weekend for the speech and debate team. We are continuing to add more TFA State and National qualifications.
Senior Catherine Pierce won the entire tournament in Humorous Interpretation and finished her state qualification AND received an invitation to compete at the Tournament of Champions in Kentucky this coming May.
Seniors Christina Morrison and Arsheen Virani were finalists in Original Oratory with Christina placing 3rd. Both received invitations to compete at the Tournament of Champions as well.
Christina Morrison again was a finalist in Foreign Extemporaneous Speaking along with Sophomore Anusha Jiwani. Christina also placed third in the event as well. Both received invitations to the Tournament of Champions.
Senior Reagan Brooks and Junior Katie Parker kept up with their consistency of getting to finals with placing 6th in Duo Interpretation.
Sophomores Anusha Jiwani and Mercdes Holmes went on a 6 round winning streak after losing their first to get to finals of Public Forum Debate losing on a 2-1 very close decision in finals. They finished their state quals.
This brings the team to 8 total qualifications and currently 5 Tournament of Championship qualifications and we aren't done yet.
Thank you,
Brian Darby
REMINDER
Please help us promote the "My Body and Soul" Toiletry Charity Drive sponsored by the Junior Class.
Items can be delivered to the Career Center by February 9.
Thanks so much for your support!
Shannon Herd
The Academic Decathlon team competed at Region this past weekend. Troylon Griffin II, HiLife managing editor, earned a gold in speech, Geoffrey Walker and Deja Harrell earned silvers in interview, and Jordan Weeks earned a silver in Social studies. The team also place 4th in Super Quiz, a single question out of the medals. Congratulations to all competitors.
Recruitment for next year begins now. We need A, B, and C students with a desire to learn and challenging themselves academically, while competing for Creek against other schools. See Mr. Fontenot or Mrs. Brownson for more information.

Ken Fontenot