Spaghetti Dinner to raise scholarship money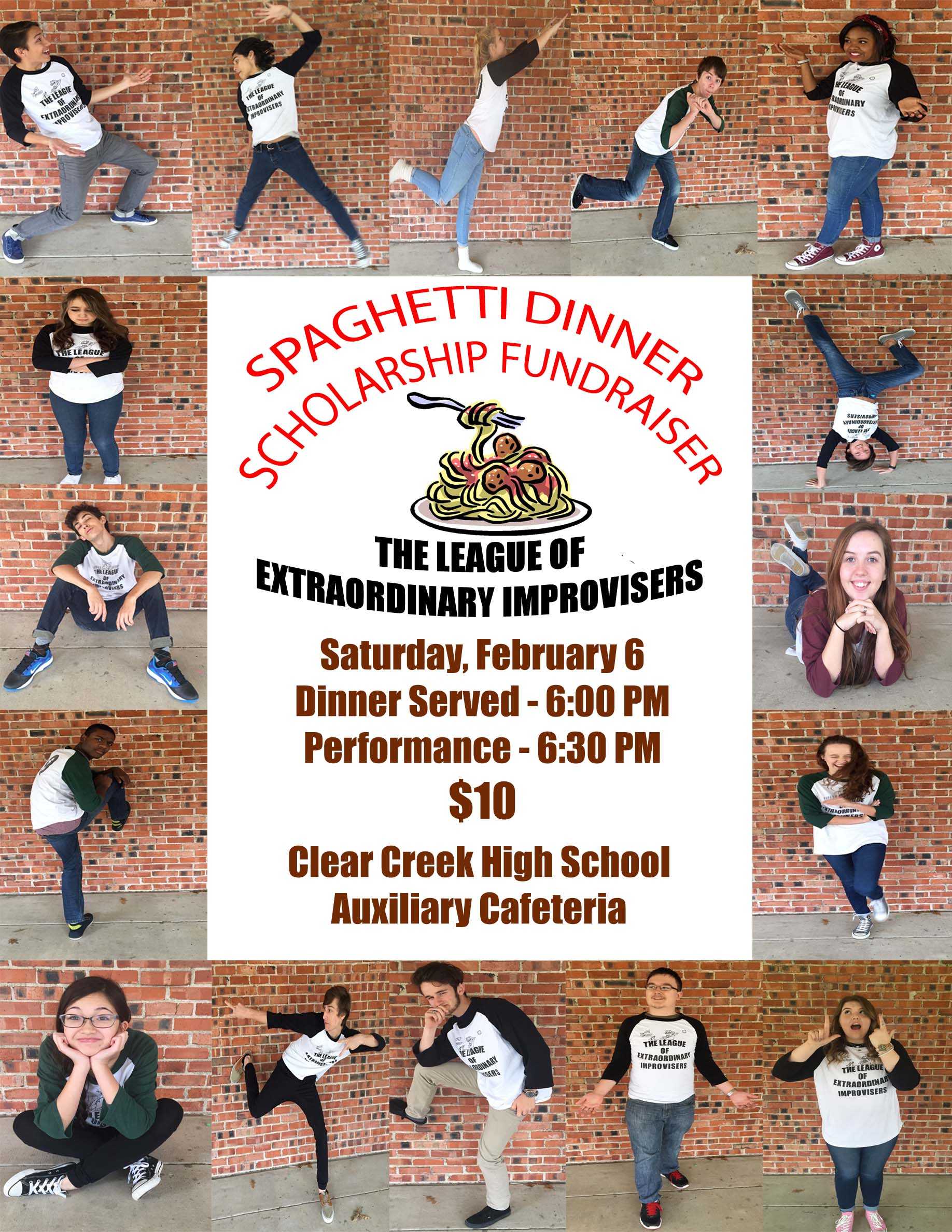 On Saturday, February 6 the Drama Booster Club will be hosting a Spaghetti Dinner to raise scholarship money for our graduating Seniors. The Dinner will be held in the CCHS Auxiliary Cafeteria from 6:00-7:30 PM.
Tickets are $10 and will be available to purchase in advance from the Drama Room as well at the door. Dinner will include your choice of spaghetti and meatballs (or a vegetarian sauce) or lasagna, salad, bread & lemonade or tea. Desserts will also be available for $1.
In addition to the meal, the evening will feature a performance by The League of Extraordinary Improvisers which will begin at 6:30 PM. The performance will include improvisation by eight players (listed below) as well as two stand-up sets.
Dinner service will begin at 6:00 PM and will continue throughout the performance until about 7:30 PM. You are welcome to stay for as much of the evening as you would like. The event is a scholarship fundraiser, so all contributions (even if it is just to pick up your plates and leave) are welcome and appreciated. We hope you are able to join us in supporting our Seniors as they prepare to begin their collegiate journey!
Players:
Sierra Boudreaux (12)
Ashley Doran (12)
Hunter Kim (12)
Samuel Shroyer (12)
Connor Vining (12)
Josh Smith (12)
Host:
London Strickland (12)
Games Coordinator:
Alex Gardner (12)
Stand-up:
Tanar Yocum (12)
Hunter Atkins (12)
Thanks!
Bradley Hewlett, Theatre Director