Congratulations to the HiLife Staff February 2016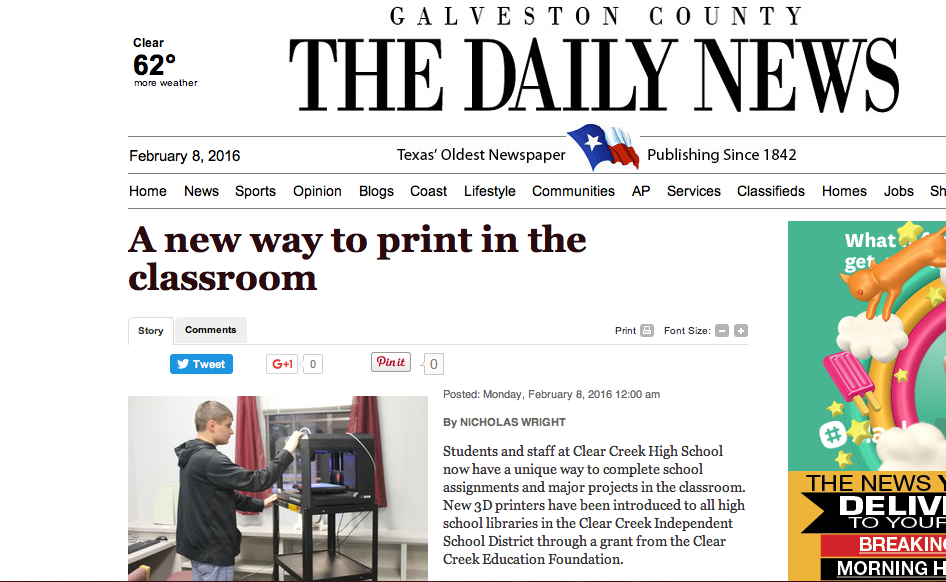 Congratulations to the HiLife's online editor Evelyn Salinas for earning the Site Excellence badge for the 2016 School Newspapers Online (SNO) Distinguished Sites 2016 season. Our badge will be displayed by at the website soon.
SNO judges said, "Your homepage looks great. The design is clean, the layout eliminates white space and your staff page looks awesome. You are doing a great job attaching images to each story, and correctly crediting them. Keep up the great work! Online editor Leo Salinas is doing a great job with our photo section as well. Check it out at creekhilife.com
Congratulations to HiLifer, Nicholas Wright, for having his 3D printer story chosen for the Star Contributors section of the district website. This is only the third story to be chosen for this venue so far. His story also appeared in the Galveston County Daily News print edition yesterday. http://www.galvnews.com/education/creek411/article_4bad1396-3e97-5897-8037-9a610e7b9327.html Great job Nicholas.
If you enjoy taking photos or talking to people about exciting events, come and join our journalism program. Opportunities abound for concert tickets, musical theater tickets in Houston, movie and music reviews and so much more. Our photographers and reporters cover school, state and national events on a daily basis. You could earn a press pass to all kinds of performances and sideline passes to our games. Stick with us and get a letter jacket in your second year. For more information check creekhilife.com or come by D-136.