Wildcat Web News 2.10.16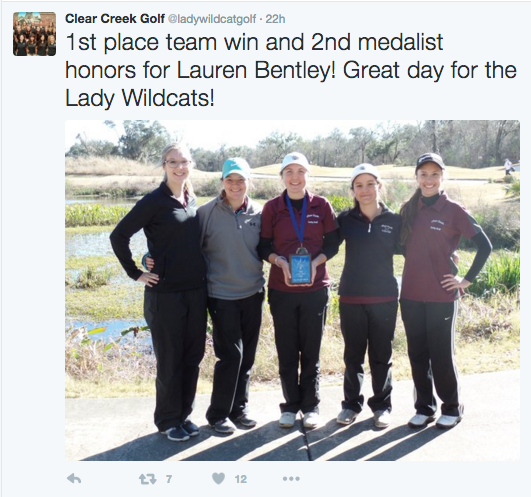 2.10.16
There will be a Drama Club Meeting today at 2:45 in the Drama Room.
Thanks!
Bradley Hewlett, Theatre Director
The Lady Wildcat Golf Team has started off the Spring Semester with a bang! The Lady Wildcat Varsity 1 took 3rd Place at the Debbie Fuchs Invitational and won 1st place yesterday at the Brazoswood Tournament at Wilderness Golf course with Lauren Bentley earning 2nd place medalist Honors. Team Members include Lauren Bentley, Ana Vallejo, Bianca Zamora, Lauren Stovall and Becca Low.
Lady Wildcat Varsity2 took 4th place at the Clear Brook Tournament last week at Timber Creek Golf Course. Team members included Caroline Singletary, Michelle Pardivala, Mary Brinsko, Lindsey Ashorn and Aubrey Smith. Great Job Lady Wildcats!
Kayla Williamson