Wildcat Web News 2.24.16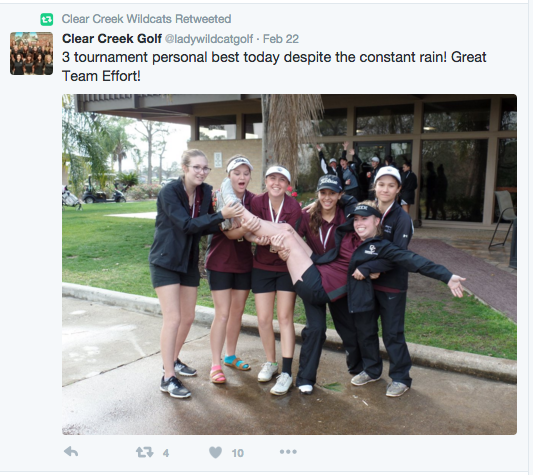 2.24.16
There will be a Drama Club Meeting today at 2:45 in the Drama Room.
Thanks,
Bradley Hewlett, Theatre Director
The Men's Soccer teams hosted Clear Brook last night.
The JV won 1-0 on a goal from Jason Kizer and assist from David Perez. Daniel Granado, Tristan Cox and Bryan Ixcoy helped secure the shutout with Tristan Dobson in the goal.
The varsity team tied 2-2 with goals from Alvaro Anez and Reece Winters.
The next game is Friday night against Clear Falls. Varsity will play at 5:00 in the stadium and JV will play at 7:00 on the auxiliary field.
Chris Cobb
The Lady Wildcats participated in the Pearland Varsity Invitational this past Monday and won 1st place, making that back to back wins for the Lady Wildcat Varsity. Team Members included Lauren Bentley, Lauren Stovall, Becca Low, Ana Vallejo-Herrera and Bianca Zamora. Lauren Bentley, Lauren Stovall, Raelee Wilkins and Bianca Zamora all shot their tournament personal best to help secure the win! Lauren Bentley won 3rd medalist overall making this her 2nd top 3 individual win in her last 2 tournaments. The Lady Wildcats travel to College Station next weekend to compete in the A&M Consolidated Tournament of Champions.
Kayla Williamson