Choir 2020 Texas All- State Choir
Hang on for a minute...we're trying to find some more stories you might like.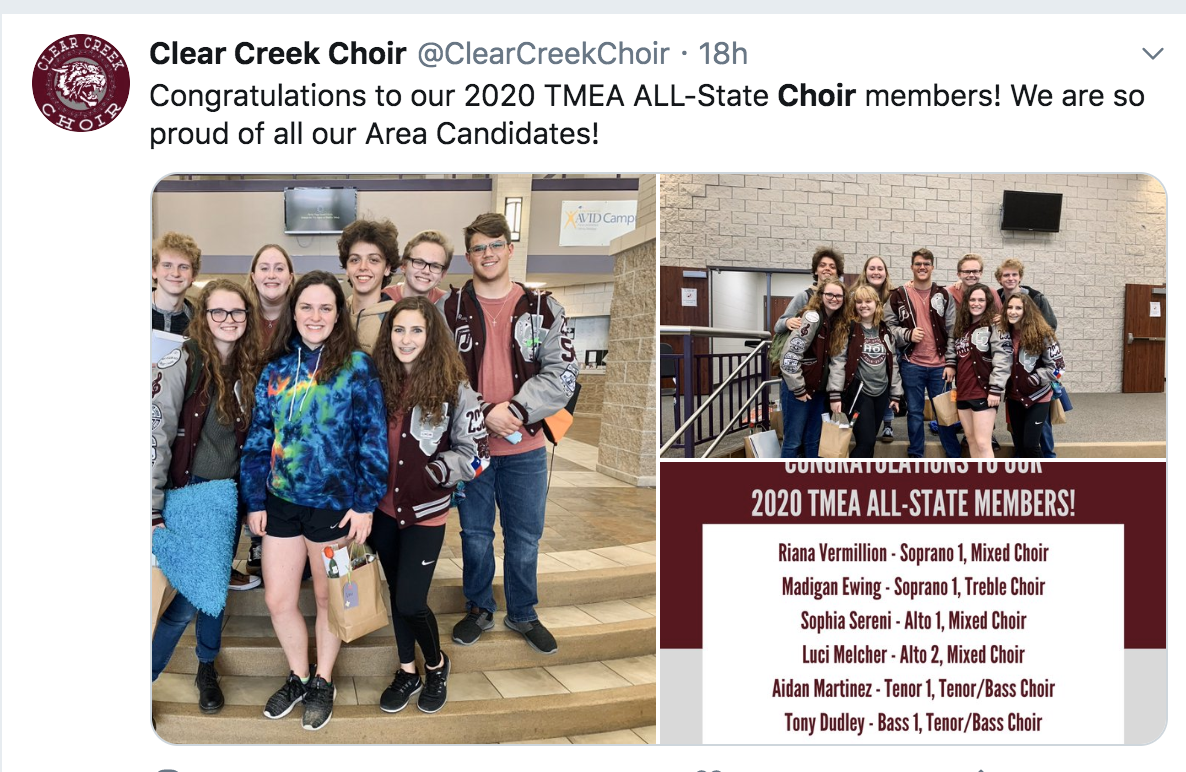 Photo by Baher Khairy on Unsplash
On Saturday, nine Creek Choir members auditioned for the Texas All-State Choir at TMEA Area Auditions at Ridge Point HS. Eight of our students ranked in the Top 11 (Women) or Top 9 (Men) in their respective sections and are 2020 Texas All-Staters. In February, these eight students, along with our All-State Band and Orchestra students, will represent CCHS in San Antonio as they spend 4 days at the TMEA Convention rehearsing and performing with all of the other All-Staters from across the whole state under the direction of some of the finest conductors in the field. This is the highest honor a high school musician can achieve, and we are thrilled to have so many students representing Creek at the State level.
We have gotten pretty used to having a lot of All-Staters from Creek over the years. We have quite a tradition here. But we shouldn't forget how difficult it is to achieve this honor or how much work it takes for these students to get there and make it through a rigorous, 4-audition process that starts in September and ends in January. Over 15,000 choir students enter the All-State process in September in hopes of making it to an All-State Choir. These eight students are now ranked in the top 3% in the state. Most school choir programs are thrilled to get 1-2 All-Staters every year, and many don't get any in at all. To give you an idea of how we compare to area schools, for the first time since opening, Falls has more than a single All-Stater (2 students made it), Springs has 2, Brook has 1, and Lake didn't get any this year. Even though our TMEA Area covers 1/7 of Texas – from Katy in the west to Deer Park in the east, from HISD to the north to Brazosport to the south – Creek Choir students will make up 10% of the All-State Choir from our area. This is not normal, and it is a testament to the hard work, tenacity, perseverance, and talent of our students here at Creek.
Please join Mr. Stultz and I in congratulating our 2020 TMEA All-State Choir members:
All-State Mixed Choir
Luci Melcher (3rd chair)
Sophia Sereni (4th chair)
Riana Vermillion (3rd chair)
Aidan Vermillion (2nd chair)
All-State Treble Choir
Madigan Ewing (11th chair)
All-State Tenor-Bass Choir
Tony Dudley (7th chair)
Aidan Martinez (9th chair)
Brady Raboin (7th chair)
James Park