Wildcat Web News 3.9.16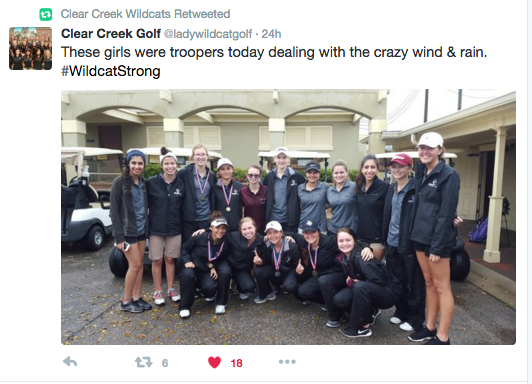 3.09.16
There will be a brief Drama Club meeting today at 2:45 in N106.
Thanks!
Bradley Hewlett, Theatre Director
Congratulations to the girls water polo team for defeating Fort Bend Austin by a score of 17 -11
and the boys water polo team for defeating Fort Bend Austin by a score of 16-4.
We would like to thank all the faculty and students that came out last night to support the teams.
Anne Woolweaver
Have you ever wanted to see what the inside of a mac, pc, laptop or printer looked like on the inside?  Tomorrow morning join us in the library as part of Teen Tech Week and come take apart computers and printers to see how they work on the inside.
Also don't forget that submissions for the 6 Word Story contest are due Thursday by the end of the day!
Laura Gladney-Lemon
The Lady Wildcat Varsity Golf Team competed in the Tournament of Champions this past weekend at the Pebble Creek Golf Course in College Station.  The Lady Wildcats had a great showing, placing 2nd Team overall and Lauren Bentley placing 4th Medalist overall.  3 of our 5 girls shot their personal tournament best!
Yesterday the Lady Wildcat Varsity, Varsity2, and Junior Varsity 1 & 2 represented Clear Creek at the 24-6A District Preview at Galveston Country Club.  All the Ladies Wildcats represented what it means to be Wildcat Strong by braving the 30 mph winds and rain and doing it with a great attitude and desire to compete.  Clear Creek won 1st place team honors with Lauren Bentley as 2nd place medalist, Ana Vallejo Herrera as 4th place medalist and Becca Low winning 5th place medalist.  Great Job to All the Lady Wildcats!  Next up will be our top 13 golfers representing Clear Creek at the 24-6A District Tournament 3/23-24 @ Galveston Country Club.
Kayla Williamson