Prom letter from Principal Majewski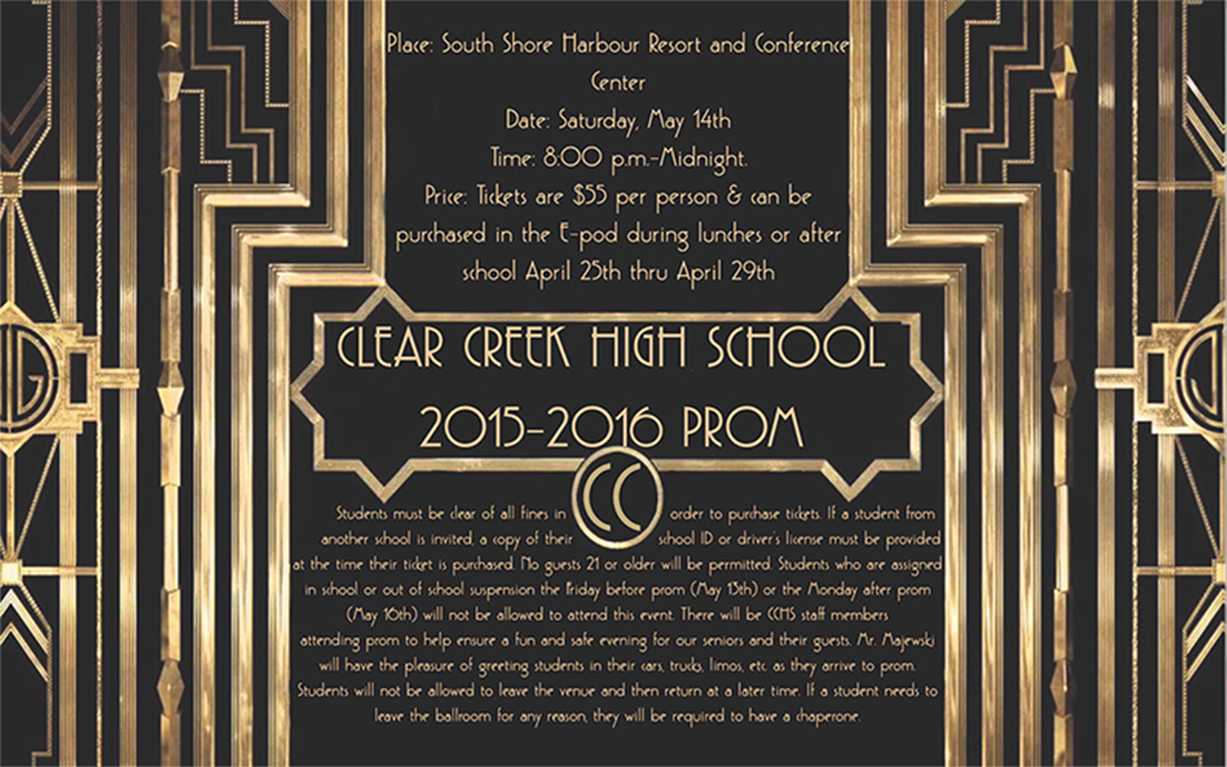 We would like to take an opportunity to share some important information regarding the upcoming Class of 201
6
Prom

. This event will take place at
South Shore Harbour Resort and Conference Center
on Saturday, May
14
th
from 8:00 p.m.-Midnight.
The theme for this year's

prom

will be
The Great Gatsby
, and all attendees will be expected to dress in
formal attire
. Below you will find some important information regarding

prom

.
Tickets are $

55

per person and can be purchased in the E-pod during lunches or after school

beginning

April 25th thru April 29th.

Students must be clear of all fines in order to purchase tickets.

If a student from another school is invited, a copy of their school ID or driver's license must be provided at the time their ticket is purchased.

No guests 21 or older will be permitted.
Students who are assigned in school or out of school suspension the Friday before

prom

(May 13th) or the Monday after

prom

(May 16th

) will not be allowed to attend this event.
There will be CCHS staff members attending

prom

to help ensure a fun and safe evening for our seniors and their guests.

Mr. Majewski will have the pleasure of greeting students in their cars, trucks, limos, etc. as they arrive to

prom

.
Heartsongs Photography will be onsite offering formal portraits and will also have a photo booth with lots of fun props!

Formal portrait packages range in price from $20-$75.

Photo booth prints are $3 for 1 image, or $5 for 3 different poses.
Students will not be allowed to leave the venue and then return at a later time.

If a student needs to leave the ballroom for any reason, they will be required to have a chaperone.
If you have any questions, please contact Mr. Harper's office in the E-100's (281) 284-1739. We are looking forward to a memorable evening for the Class of 2016!
Principal – Clear Creek High School
*Prom graphic by Issac Villarreal