Free preview of UIL One Act Play March 21 @ 6:30 PM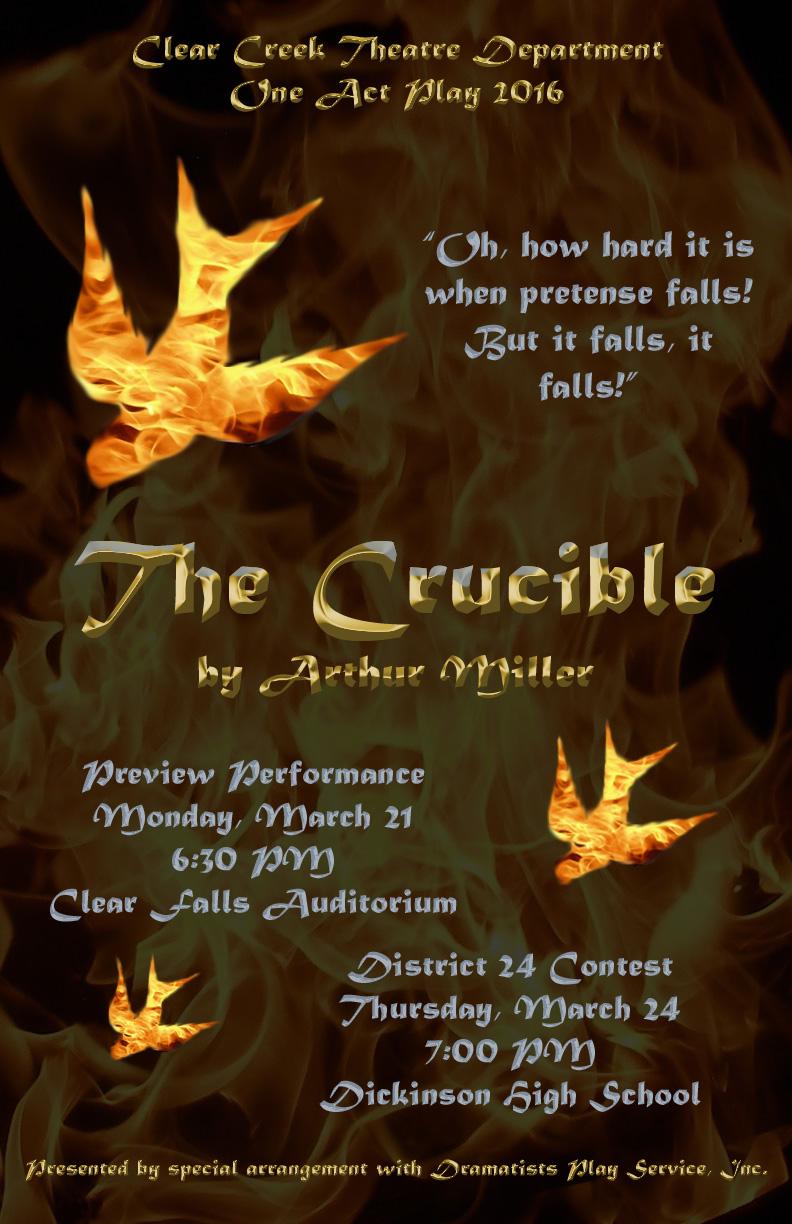 The Theatre Department invites you to attend a free preview of our UIL One Act Play production of The Crucible by Arthur Miller.  Clear Falls High School has generously opened their Auditorium to us on Monday, March 21 so that we can perform for our parents and school community at 6:30 PM.
The performance will last forty minutes and will be follow by a five minute "spoof show" put on by the Crew and Alternates.  The performance is open to the public and the students would appreciate a live audience to share their work with before competing at UIL District (hosted by Dickinson HS) on Thursday, March 24.
The 2016 UIL Company is as follows:
Madelyn Chidester (11) – "Betty Parris"
Pershaun Haynes (11) – "Rev. Samuel Parris"
Sierra Boudreaux (12) – "Tituba"
Ryleigh Loser (12) – "Abigail Williams"
Ashley Doran (12) – "Susanna Walcott/Rebecca Nurse"
London Strickland (12) – "Ann Putnam"
Tanar Yocum (12) – "Thomas Putnam"
Hannah Russek (10) – "Mercy Lewis"
Michelle DeMoss (10) – "Mary Warren"
Cole Hutto (11) – "John Proctor"
Alex Gardner (12) – "Giles Corey"
Justin Adams (12) – "Rev. John Hale"
Zoie Ellis (11) – "Elizabeth Proctor"
Alec Barosh (12) – "Ezekiel Cheever"
Marco Rodriguez (12) – "Deputy-Governor Danforth"
Jerrica Burke (12 ) – Stage Manager
Matthew Hall (12) – Light Board Operator
Ty James (12) – Sound Board Operator
Ashlyn Carter (11) – LED Board Operator
Allison Cox (10) – Props
Noah Massey (11) – Alternate
Hannah Meade (12) – Alternate
Riley Tamblyn (10) – Alternate
Victoria Blackburn (10) – Alternate
Samuel Shroyer (12) – Support Ensemble
Nick Wright (12) – Support Ensemble
Matthew McKisson (11) – Support Ensemble
Justice Alhmoud (11) – Support Ensemble
Mia Carter (10) – Support Ensemble
Olivia Ellisor (10) – Support Ensemble
Lillie Meade (10) – Support Ensemble
Bradley Hewlett, Theatre Director