Entertainers engage with fans in a new way due to coronavirus pandemic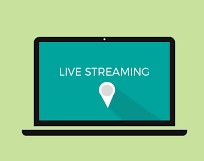 Since the outbreak of COVID-19 many people are finding creative ways to stay entertained while respecting the rules of social distancing. Social distancing changes the way society works and prevents social interaction, which is a big part of how the community functions. Social distancing prevents big gatherings or community activities and it is the cause of many big cancelations, including that of the Houston Rodeo and other concerts. Originally, when the virus first came about these concerts and tours were cancelled and fans were refunded for their tickets. This left many people upset and disappointed, although that changed when it was announced that artists would be holding live performances from their homes for their fans to stream.
Online and livestream concerts have been around for years, but since the COVID-19 virus, they have gained a lot of publicity and caught the attention of celebrities fast. Notable artists from all over are streaming with intent to raise money for organizations such as Feeding America and First Responders Children's Foundation, which aim to help families through this hard time.
On Sunday March 29, exactly this happened when artists pulled together a "iHeart Living Room Concert for America" which ended up raising over eight million dollars for these organizations. Artists such as Elton John (who was a host), Alecia Keys, Shawn Mendes, Backstreet Boys and even more celebrities participated in the concert. Some artists even performed together online from their own homes, such as the Backstreet Boys, who performed their iconic song, I Want it That Way. The song is a very well-known hit from 1999, which the artists performed from five different locations.
Many fans commented on how the music was helping the community heal from the COVID-19 outbreak and it brought an upbeat sense of entertainment that could be enjoyed by many people at the same time.
"iHeart Concert on FOX is the concert broadcast we needed to hear during this difficult time! Music heals! Thank you!" Barry Chou, commenter on twitter, said.
Many other fans tweet similar responses to their experience with the live broadcast on FOX. It was both streamed and televised to the public on networks such as FOX. If someone missed out on the broadcast originally there is videos online of all the performances from the night of the concert. Including the interactions among the artists as they did collaborative work for the night.
Additionally, other celebrities are holding their own livestreams on different social media platforms, such as Facebook and Instagram. Some are even inviting others to the livestream and creating a talk show atmosphere where fans can ask questions and interact with others. Miley Cyrus is doing just this as she created her own talk show called "Bright Minded" in which she talks to other celebrities that she invites on the show in an attempt to brighten up the current circumstances and discuss lighter issues at the moment, including what a healthy lifestyle looks like through hard times. Her show, as she revealed, Bright Minds stands for an acronym which mentions the other topics that she will be discussing. Her show can be streamed through her Instagram and it takes place every Monday through Friday at 11:30 am to 12:30 pm Pacific Time or 2:30 to 3:30 pm Eastern Time.
Websites such as Billboard, as well as other sites, show full list of performances and live broadcasts, which are updated daily as the on going COVID-19 virus continues to affect the world. These broadcasts and performances help bring a sense of community amongst people while under social distancing and quarantine because of the COVID-19 virus. These broadcasts offer up both a sense of community and just a new form of entertainment other than Netflix or Hulu, that get viewers involved in the real world again, so people can all stay connected while still pursuing the goal of social distancing and attempting to flatten the curve of COVID-19.