Wildcat Web News 4.15.16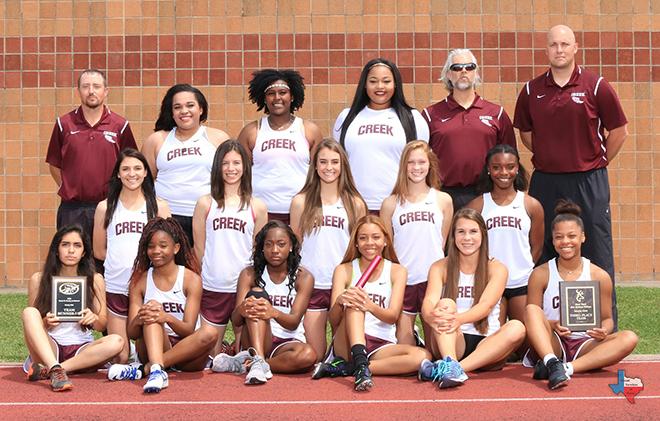 4.19.16
Do you want Mrs. Backe and Mrs. Elcure get pied?  Do you want Mr. Mayol to spray paint his hair?  Do you want your class to win a pizza party?  If so, donate to StuCo's coins for caregivers project in your 6th period class!  StuCo will be picking up cups Monday so you just have a few days left.
Laura Gladney-Lemon
Congratulations to all Creek Orchestra students at UIL contest this year, held at Clear Falls and Clear Lake HS.  The Varsity and Sub-Non Varsity Orchestras received Excellent and Superior awards on stage and in sight reading and Non Varsity received Sweepstakes overall!  Congrats to all of our orchestra students for a job well done!
Kysha Bradshaw
Congratulations to the Boy's track team for an outstanding performance in last night District finals. Scoring for the boys and moving on to the Area meet next week in Alief are:
Tyler Martin– 3rd- 3200 meters
Donovan Johnson– 2nd- 110 Hurdles, 2nd- 300 Hurdles
Noah Daniels– 2nd -100 meters, 3rd- 200 meters
Jaiden Woodson, Landon Etzel, Jack Kelly, Daniels– 1st- 4 x 200 Relays
Max Connor– 3rd 300 Hurdles
Matt Kinsky, Kelly, Etzel, Woodson– 3rd- 4 x 400 Relay
Clear Creek Cavaliers Spring Show "Inspire"
May 6th & 7th
CLEAR SPRINGS AUDITORIUM @ 7PM
If you need anything else or have any questions please feel free to contact me. Thanks soooo much and have a great Friday/weekend!!
Jenille Junco
CCC Booster Club Secretary
The Varsity Girls Track Team completed their Final Day of the District Track Meet yesterday at Challenger Columbia Stadium beating half the field finishing 4th Overall!
Advancing to the Area Track Meet from the Running Finals are: Hailey Chorn taking 2nd Place in the 1600 Meter Run, Jessica Ransom taking 3rd Place in the 100 and 200 Meter Dash, Brittany Clark taking 3rd Place in the 400 Meter Dash, the 4×400 Meter Relay Team of Jessica Ransom, Kristina Paul, Aaliyah Thomas, and Jessica Skladal taking 3rd Place, and the 4×200 Meter Relay Team of De'Azhia Smith, Jessica Skladal, Aaliyah Thomas, and Carah Delao taking 4th Place.
The Area Track Meet will be held next Friday April 22nd at Crump Stadium in Alief with events beginning at 10 AM.
Congratulations to track Lady Wildcats!
Coach Zepeda
Clear Creek High School's fashion show, say yes to the dress is only 13 days away. Mark your calendars for April 28 at 6:30 pm in the auxiliary cafeteria. Also if you're looking to sell a dress in our show come to the E100s for more information!
Stephen F. Austin will be visiting the College Center on Monday, April 18 during 3rd period and Texas A & M on Tuesday, April 19 during 3rd period. Interested students can sign up in Naviance or visit the College Center for more information.
Shannon Herd