Wildcat Web News 4.25.16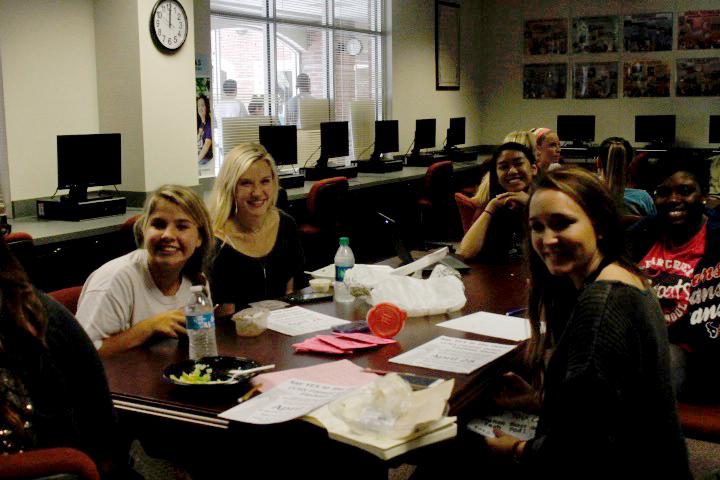 Photo by Aleida Solesky
4.25.16
Congratulations on the Boy's track team qualifying in 5 events this weekend at the Regional track meet being hosted at Columbia Stadium.
Tyler Martin- Area champ in the 3200 meters
Noah Daniels- Qualifying in 100 and 200 meters
Donovan Johnson- Qualifying in 110 and 300Hurdles
Also placing in Area meet was Max Cornor in the 300 hurdles.
Ruben Jordan
The Fashion Club will be selling tickets for their formal gown fashion show, "Say Yes to The Dress"! Tickets can be purchased ahead of time for  $7 during lunch periods or $10 at the door! Buy your ticket today in the Cafeteria!
Shannon Herd
The National Technical Honor Society will have a meeting today at 2:45 in the Library. Everyone attend, officer elections will be conducted.
Shannon Herd
The Varsity Girls Track Team competed in a very competitive field at the Area Track Meet on Friday at Crump Stadium in Alief!
Advancing to the Regional Track Meet and your Area Champion in the 2-Mile taking 1st Place was Hailey Chorn, Skiye Sparks will be advancing to the Regional Track Meet in the Shot Put taking 3rd Place, and Anna Scheuring will be advancing to Regionals taking 4th Place in the Pole Vault. Other Lady Wildcats who placed for their Team at the Area Track meet included, finishing 5th was the 4×400 Meter Relay Team of Jessica Ransom, Kristina Paul, Brittany Clark, and Aaliyah Thomas, and Skyie Sparks in the Discus. Finishing in 6th Place included, Jessica Ransom in the 200 Meter Dash, Hailey Chorn in the 1-Mile, and Alexis Spears in the Shot Put.
The Regional Track Meet will be held this Friday and Saturday at Challenger Columbia Stadium with events beginning at 11 AM.
Congratulations to your Lady Wildcats!
Coach Zepeda
The Fashion Club is hosting a clothing and toiletry drive for the Houston flood victims! Donations can be delivered to any pod on campus! Thank you for your support!
Shannon Herd
Do you like to feel a part of a team? Come one come all who are interested in being a part of the Ultimate team at Clear Creek. The Clear Creek Sports Medicine Athletic Training team will be holding tryouts during the month of May. If you are interested in being a part of this team please come to the informational meeting on April 27th at 3:00pm in the athletic training room.
Candle L. Carmichael, ATC, LAT