Mayweather knocks out competition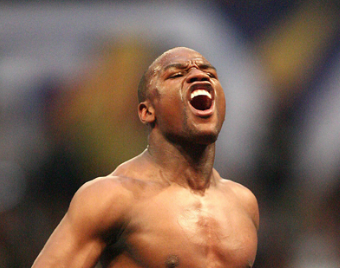 Undefeated Floyd Mayweather Jr. calls himself, "The best ever", but if there is any doubt about his self proclaimed nickname after winning his 47th bout versus Marcos Maidana resulting in a unanimous decision September 13th at the MGM Grand in Las Vegas Nevada, Floyd can tell you his life has not always been the best ever as his nickname suggests.
Mayweather was born in Grand Rapids Michigan and was raised part time between his poor grandmother, his mother, (who was addicted to drugs,) and his father (who had many troubles with the law and was in and out of jail), the most time that Mayweather's father spent with him was taking him to the ring to work on his boxing.
"I don't remember him ever taking me anywhere or doing anything that a father would do with a son, [like] going to the park or to the movies or to get ice cream," Mayweather said. "I always thought that he liked his daughter better than he liked me because she never got whippings and I got whippings all the time."
Mayweather did all he could to work on his art while his father was absent, the elder Mayweather served his time while his son put all his energies into boxing, and dropping out of high school.
"I knew that I was going to have to try to take care of my mom and I made the decision that school wasn't that important at the time and I was going to have to box to earn a living," Mayweather said.
Mayweather is now deemed one of the greatest boxers and is also called the greatest defensive boxer of all time. He is known for his killer quick feet and his stellar dodging abilities. He has used these tactics to defeat all his opponents and even some of the all time greats of the boxing world such as Oscar De La Hoya, Shane Mosley, Ricky Hatton and Canelo Alverez.
On May 3, Mayweather faced one of his toughest fights versus Marcos Maidana, the fight on a statistical standpoint was all Mayweather but many argue that Marcos connected more heavy hits than Mayweather did, Maidana also commented that Mayweather was running away the whole fight, but the statistics show that Mayweather connected on 47 percent of his throws as supposed to Maidana's 17 percent, though this fight went to Mayweather in a unanimous Decision. Maidana made it clear he wanted to fight the champ for a second time.
On September 13, Mayweather looked to shut down Maidana and give the boxing fans no reason to ever suspect they needed a second fight to begin with. Maidana came out electric through the first four rounds and at the end of the third round staggered Mayweather with a big right hand connect directly to Mayweather's face, fortunately for Mayweather, Maidana had no time to follow up for a knock out or a big momentum shift. Mayweather looked a bit shaken walking back to his corner as he prepared for the next round. At the start of the fourth round Maidana kept his composure and remained to fluster Mayweather with hard body jabs that seemed to slow him down and give Maidana an edge for the rest of the fight. However rounds five through 12 were all Mayweather as he used his quickness and stellar defensive technique to dodge most of Maidana's attempts. The countless hours of training had built Mayweather's body to endure the boxing ring and whatever it may have brought him as he continued to connect jabs to the body of Marcos Maidana.
The fight ultimately resulted in a favorable score for Mayweather, two judges gave him a 116-111 score and the third judge gave him a 115-112 score cruising to his 47th victory and keeping him undefeated.
Mayweather has two more fights in his contract with ShowTime and many hope a fight with Manny Pacquiao will resonate before his retirement in 2015.
In the mean time Mayweather will continue to live his half billion dollar lifestyle and will wait until a new fighter will be chosen as Mayweather will try to remain undefeated and receive his 48th victory.