Parking Info/Priority 2016-17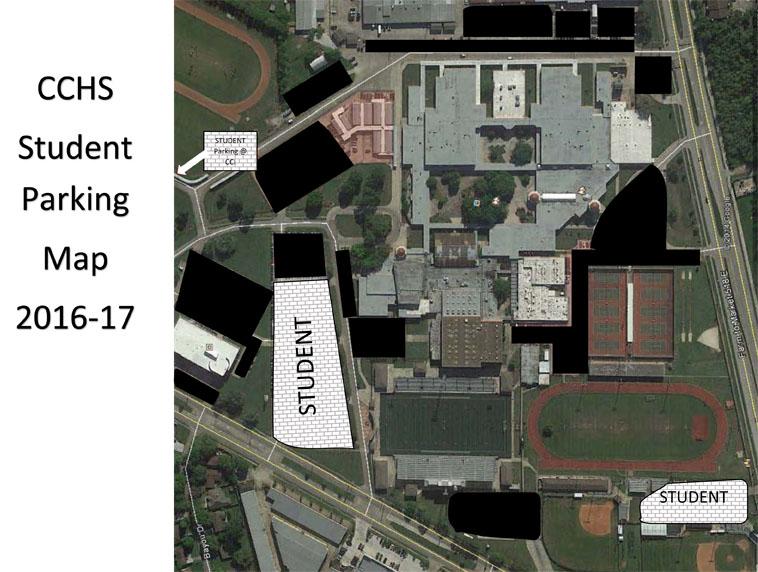 Due to a reduction in parking spaces at CCHS as a result of construction, we will use the following guidelines for parking priority. CCISD's Student/Parent Handbook states that parking permits are granted on a space available basis and that senior students are given priority. Designated student parking areas include: Baseball Lot, Main Lot, and CCI Lot (lot closest to CCHS). See map attached for student parking locations.
PERMIT PURCHASE TIMELINE / PRIORITY:
  Seniors – Monday, August 8 at Schedule Preview (8 AM – 12 PM).
  Seniors & Underclassmen who have an Off-Campus class (Dual Credit, etc.) or a class that takes them Off Campus (PALS, etc.)
                               Tuesday, August 9 – Thursday, August 11 at designated    Schedule Preview dates/times.
   Seniors –

First Week of school

(before/after school only).
   Juniors-   A. Due to the reduction in parking spaces, Junior parking permits will be

issued by lottery

(unless they are enrolled in a class that takes them off campus –PALS, Dual Credit, etc.).
           B. Sign up for Lottery permit selections will begin on Monday (8/22) and will end on Friday (8/26) at Noon. Sign-up will be in D100.
            C.  We will begin notifying students who were selected in the lottery on       the afternoon of 8/26.
   Sophomores and Freshmen – Sign-up for waiting list beginning on 8/29 in D100.
NOTE: Student classification based on credits earned.
WAITING LIST (If necessary):
Based on seniority (Juniors not selected in Lottery will be placed at top of waiting list).
   All paperwork must be complete at time of permit issue (student will be moved to bottom of waiting list if not complete)
   Sign up in D100 office