Senior Raynie Leard's art recognized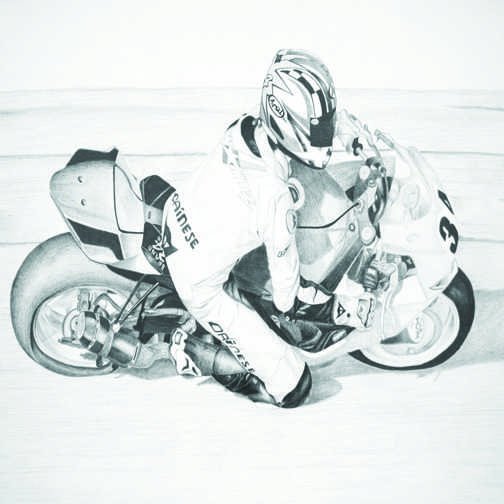 Jenan Taha, Features Editor
November 5, 2014
Senior art student Raynie Leard won recognition for her artistic ability by the Texas Association of School Boards and Texas Association of School Administrators when her piece, titled "Vroom," was chosen to represent CCISD at a school board meeting. The piece was chosen out of eight others in the district and is being displayed in Dallas along with other grade level art pieces.
The drawing was entered in the competition at the end of the last school semester and chosen by the school board over the summer. The piece is a detailed pencil drawing of professional rider Kevin Schwantz speeding around a track on a motorcycle road racer.
"I worked from a photograph that my dad took for the club my dad and I work for," Leard said. "The sport in general has always been a part of my life, so it holds a lot of importance in my eyes."
The drawing process was very tedious, and the small details of the motorcycle were slowly and painstakingly drawn to replicate the photograph.
"I'm a stickler for perfection, so this project just about killed me," Leard said. "It took weeks and at some points I wanted to abandon the work for a while. I was very meticulous with it, and while that was a difficult process, the outcome was worth it and I was very pleased with myself."
Once the piece was finally finished, Leard felt proud of her unique and yet relatable artwork.
"Not only do I think I executed it well, but it's an uncommon subject," Leard said. "It's kind of cool for people to see a drawing of a motorcycle speeding at over 100 miles per hour. It represents a huge part of my life—a part that is no doubt interesting for others."
The piece gained popularity not only at school, but on social media as well.
"Mr. David Drake wrote to me and told me in person how awesome it was when it was displayed in the front office, and about 200 people on my dad's Facebook loved the picture he posted of it," Leard said. "That definitely boosted my confidence. I'm glad I was so meticulous in the long run because those details are what made the piece in my eyes."
Toward the end of her junior year, Raynie entered her distinguished piece in the school board competition.
"My teacher, Mrs. Lienhart, was extremely impressed with my work, and she informed me of the contest," Leard said. "She entered my piece for me, and I was hopeful that all my hard work would receive more recognition."
Leard heard her name as the winners of the competition were announced September 26.
"I was very happy and my parents were extremely proud," Leard said. "Mr. Drake wrote me another congrats letter and I have been getting congratulatory remarks everywhere I go."
Her piece is now being displayed in Dallas for the next three months. Although she does not plan to pursue art as a college major, she wants to continue art as a hobby, and has already planned to sell prints of her piece.
"A     lithography of my piece will be signed by Schwantz and I, and sold in auction or online, which is really exciting," Leard said.